by
Peggy Bowes
on Jan 05, 2012 in
Columnists
,
Featured
,
Sports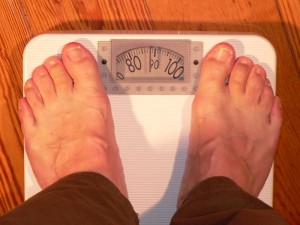 "Physician, heal thyself." (Luke 4:23)
As a fitness expert, I practice what I preach, exercising regularly and eating a healthy diet.  Yet, like most people, I occasionally find that life gets too busy and the workouts and healthy habits temporarily fall by the wayside.  My clothes start to feel a bit snug and the number on the scale sets off alarms.  At this point, I take advantage of my education and experience as a personal trainer and weight loss counselor.  These strategies always work for me and have worked for hundreds of my clients; however, if you have any medical issues or an eating disorder, please consult your physician.
Be committed.  I can have the best intentions in the world, but if I don't have concrete goals and a plan in writing, my efforts are wasted.  I set a goal weight and plan on losing 1-2 pounds each week.  I look at my schedule and find any "land mines" that might interfere with my plan such as an event where there will be a lot of tempting food or a period of high stress which might affect my workouts.  I factor this into my plan so that I won't get discouraged.  Since regular exercise is essential to long-term weight loss and maintenance, I schedule my workouts as if they were appointments.  If I really want to get serious, I choose a race such as a 5k or triathlon and submit the entry fee to seal my commitment.  (If you're not an athlete, sign up for a 5k and train to walk it.)  My favorite resource for upcoming races and events is www.active.com.
Keep a journal.  My family knows that I'm serious about losing weight when I get out my notebook.  I use it to keep track of everything I eat as well as my workouts.  Yes, it's tedious, but recordkeeping is truly essential for weight loss.  I measure all my food and compare my portion with the serving size on a nutritional label or look up the calorie content online.  (My favorite site is www.CalorieKing.com.) If I am making a meal from a recipe, I simply type in the number of servings and ingredients in an online recipe analyzer to determine the number of calories.  (I like the one at www.CalorieCount.com  My goal is 1600-1800 calories per day, which will work for most active women of average height.  Men should aim for about 1800-2000 calories per day.  Petite women or women who are not very active may have better results at 1300-1400 calories daily and smaller or less active men at 1500-1700 calories.  This is just a ballpark number to use as a starting point.  You may need to fine tune it based on your personal goals and the rate of weight loss desired.
Weigh in daily.  I have a good digital scale that I use to weight myself every day when I'm trying to lose weight.  I don't do this as an obsession but to look for trends.  Over the course of a week, a person's weight will vary from day to day, but as long as the trend is in a downward direction, then your plan is effective.  Keep in mind that you may only lose ½ a pound a week unless you are exercising quite a bit or really restricting your calories.  If your weight is steady or trending upward, then be honest with yourself.  Are you really watching what you eat and exercising regularly?  If so, then you may need to tweak your plan a bit or consult a doctor or nutritionist.  Do give your plan a few weeks to see results.  They may show up in the form of looser clothing before registering on the scale.
Remove temptation.  I know very well the foods that will sabotage my diet (chocolate and other sweets), so I get rid of them.  I learned from my training and from personal experience that trying to practice extreme willpower is not effective.  If tempting foods are in the house while I'm trying to lose weight, then I will eventually give in and overindulge.  If I do experience an overwhelming craving, then I will leave the house and buy the food that I am craving in a small portion.  Usually a peppermint patty or a mini container of ice cream will satisfy the craving without sabotaging my efforts.
Plan for the weekends.  I, like most people, can be pretty disciplined about restricting calories and getting in my workouts during the week.  The weekends are what often derail my plan.  A Saturday matinee, a dinner date with my husband, or my daughter's impulse to make brownies can undo a week's worth of hard work.  When faced with these obstacles, it helps to plan ahead.  I bring a small paper bag from home and measure out a cup of movie popcorn and give the rest to my family or throw it in the trash.  (Better to waste a little food than to sabotage the diet.)  When I go out to eat, I drink water and ask the server not to bring any bread.  I request a lunch portion or ask for a "to go" box with my meal so that I can divide it up into a reasonable portion.  (As a bonus, I have another meal to enjoy the next day or to bring home to my children.)  If my daughter or a friend bakes a tempting treat, I have just one serving, eat it slowly and really enjoy the food.  I seal up any leftovers and send them out of the house with my husband or children.  To get in a workout on the weekends, I encourage my family to go outside for a walk.
Get back on the horse that threw you.  I occasionally lapse and give in to temptation, especially on the weekends (see above), but I refuse to be give up.  I look at the indulgence as a minor setback and get right back to the plan the following day.  It's helpful to look at the factors that caused my downfall in order to plan and prepare for a similar situation in the future.
Practice fasting.  I don't consider weight loss a selfish goal as I believe that God expects us to care for the bodies he gave us, and I know that maintaining a healthy weight gives me energy and good health to carry out my vocation.  Yet I try to incorporate a spiritual component by occasionally fasting or offering up my hunger and discomfort, especially on Fridays.   For a fast, I might drink only juice and milk until dinner, or I will eat only a piece of bread for breakfast and lunch and then a simple, healthy dinner.  Prayer and almsgiving are important parts of fasting.  The hunger pangs remind me to pray, and on fasting days I buy a few cans of food for the local food bank.  (If you plan to fast longer than a day or two, it would be a good idea to consult a physician and a spiritual advisor or priest.)
Expect to be hungry.  Hunger is an inevitable part of weight loss, but it too can be a spiritual gain.  I like to offer up my hunger as penance for my sins or for a certain prayer intention.  This gives meaning to this minor suffering and discomfort.  I know my eating plan is effective if I'm just a little hungry when I go to bed at night and I wake up with a hearty appetite.  (If I'm starving before bed and know that I won't sleep well, I drink a small mug of milk with Ovaltine, a caffeine-free chocolate mix).
Pray for help.  Secular weight loss plans miss this important tool for success.  Losing weight can be virtuous as you are practicing one of the four cardinal virtues:  temperance, or self-control.  Perhaps you might ask your patron saint or guardian angel to help you with your weight loss efforts.  You can also incorporate prayer into your workouts.  I wrote a book called The Rosary Workout;  based on this concept.  I pray the Rosary during nearly every workout, and this practice has brought me many blessings.  You might also enjoy a book by my friend Dr. Kevin Vost called Fit for Eternal Life.  Kevin and I co-wrote, along with Shane Kapler, a devotional with daily physical and spiritual exercises, inspired by the saint of the day, called Tending the Temple.
I'm off to find my notebook and scale and a fun race to enter this spring.  Won't you join me?
Do you not know that your body is a templeof the Holy Spirit within you, whom you have from God, and that you are not your own? For you have been purchased at a price. Therefore, glorify God in your body – 1 Cor 6:19-20.