by
Marybeth Hicks
on Aug 15, 2011 in
Columnists
,
Featured
,
Leadership
,
Sports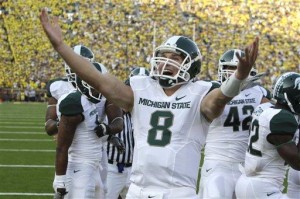 Among last week's troubling headlines: " 'Jersey Shore' scores most-watched season premiere ever: Opener drew 8.8 million total viewers."
Apparently, last Thursday night, overcome with news of our economic woes, millions of us sank into the sofa to escape to Italy with Snooki, the Situation, D.J. Paulie D and the rest of the gang from down the shore.
I don't know what is more depressing: the tanked economy or a nation enthralled with the antics of a dozen undereducated, overindulged, terminal adolescents whose only unifying traits are their ethnic heritage and a colossal sense of entitlement.
Perhaps what is most incomprehensible to me is that the entitled attitudes of the "Jersey Shore" characters are expected, and even admired.
Five years ago, a survey of Americans found 83 percent believed our youth felt more entitled than 10 years previously. And that was long before MTV's "Jersey Shore" elevated "sense of entitlement" to "rock star" status.
In the 12- to 34-year-old demographic, the "Jersey Shore" season opener scored an 8.2 rating, or 6.5 million viewers. If only a fraction of those young people instead watched a video of another 20-something American guy: Michigan State University quarterback Kirk Cousins.
Mr. Cousins' remarks at the Big Ten Football media day have been viewed by only 50,000 people via YouTube.
Addressing the assembled sports reporters on behalf of his fellow Big Ten football student-athletes, Mr. Cousins spoke eloquently and emphatically about living in "a place of privilege."
Initially, he articulated the privilege of playing Big Ten college football, of visiting some of the nation's leading campuses, competing before vast audiences of fans who pay hard-earned dollars to attend games, playing in games that are telecast to millions of viewers, and being covered by journalists and media professionals who chronicle the sport and the student-athletes on and off the field.
But Mr. Cousins doesn't just appreciate the opportunity to play big-time college football. Unlike most young people of his generation, Mr. Cousins knows what privilege really means.
"It's here, in this place of privilege, where perhaps danger lies. I have been taught that human nature is such that the 'place of privilege' most often and most naturally leads to a sense of entitlement, the notion that I deserve to be treated as special, because I am privileged.
"The truth is, privilege should never lead to entitlement. I've been raised and taught to believe that privilege should lead to responsibility; in fact, to greater responsibility."
According to Mr. Cousins, that responsibility extends far beyond merely doing their best on the football field and in the classroom, or following the rules set down by the league and the NCAA.
"We have a responsibility to use the platform we've been given to provide a true example of what it means to be a young man. … We have a responsibility to develop and use our God-given talents to their fullest potential and to do so in a way that honors God and benefits others.
"I don't believe it's too far-fetched to think that we as college football players could make a significant positive difference in the youth culture of America, simply by embracing the responsibilities that accompany this place of privilege. We could redefine what is cool for young people. We could set a new standard for how to treat others. We could embody what it means to be a person of integrity. …
"We could show that it's more important to do what is right, than to do what feels right," he said.
For anyone who wants to be reassured that there are young Americans who know what it means to be blessed and who resist the sense of entitlement that chips away at the character of the next generation, it's seven minutes well spent.
Who knows? Watching him may even turn you into a Spartan fan.