by
Jann FritzHuspen
on Apr 05, 2012 in
Columnists
,
Featured
,
On TV and Movies
,
Video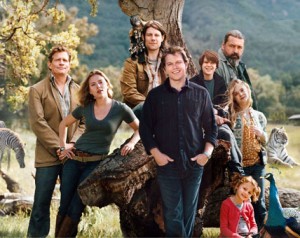 Benjamin Mee (Matt Damon) and his two children, Dylan (Colin Ford) and Rosie (Maggie Elizabeth Jones), lost their wife and mother, Katherine, just six months ago. The family is grieving and Benjamin is floundering in his job as a journalist. Dylan (fourteen) is moody, angry and in regular trouble at school. Rosie (seven) misses her mom, but she seems to be the most resilient person in her family.
Before Benjamin's boss can fire him, he quits his job. Dylan gets expelled from school for infractions that include stealing and creating an unsettling piece of artwork of a bloody man with his head falling off. Clearly this is a family in trouble, so Benjamin decides they need to "start over" somewhere else.
With the aid of a quirky realtor, Benjamin and Rosie look at a plethora of properties, hoping to find just the right one. Against the realtor's warnings, they look at a run down house with a large acreage. It needs a tremendous amount of work but Benjamin and Rosie fall in love with it. Plus, it comes complete with a zoo and Benjamin sees it as their "cause," the "new start" that can pull his family back together.
Of course, as soon as they move to their new place, Dylan hates it. He misses his friends and refuses to get involved with helping to get the zoo fixed up in time for their big inspection prior to the grand opening of the zoo in mid summer. But Benjamin and Rosie get right to work and are helped by the zoo's former staff, led by head keeper, Kelly (Scarlet Johansson).
The team deals with animal problems ranging from escaping snakes and a bear that wanders off, to an uncooperative tiger. Benjamin runs into financial troubles, only to find that his late wife, Katherine, has left him some "emergency funds". Kelly's young cousin, Lily, befriends Dylan and though Lily dotes on Dylan, he does not even notice she's there.
The film's crescendo occurs when Dylan confronts his father about hating the place and having to live there. He confesses he misses Lily, who withdrew her attentions from Dylan sometime earlier. Both Dylan and Benjamin share how much they are both hurting since Katherine's death.
The week before the zoo's grand opening, the area is hit with the biggest storm of the century, and more rain is predicted for opening day. Dylan takes his dad's advise to be courageous and finds Lily. He tells her he loves her and they hug each other sincerely (thankfully, there is no kiss).
Before the zoo can open to the public it must pass a rigorous inspection, and the rain continues to fall. But the day of the Grand Opening, the Mee family and the zoo team awake to a sunny day, and the zoo passes the big inspection.
Just when they think no one has come to the zoo's much anticipated opening, they discover a large tree was knocked down by the storm and is blocking the zoo entrance. Everyone of the zoo team, including Dylan, pinches in to help the waiting crowd over the fallen tree and into the zoo. Kelly tells Benjamin she has a crush on him and they kiss; she tells him she hopes they can do that again on New Year's Eve and Benjamin replies that he looks forward to it.
We Bought a Zoo is loosely based on the true story of the Mee family of England, which is why the movie caught my eye. I am a sucker for heart-felt, true stories and "indie" films. But unfortunately, this one missed my heartstrings completely.
Though it did remarkably well at the box office, most likely because of the draw of two big name stars, Damon and Johansson, this film lacks any real excitement, unless you count a bear that wanders off the property. The story line is predictable and flat. Unfortunately, Hollywood is simply not equipped to deal with death–and who really is without acknowledging a belief in God in the mix. The only real redeeming quality of the film is the performances of the two youngest actors, Ford and Jones.
Colin Ford does a fantastic job portraying a confused, hurting, grieving teenager. It could be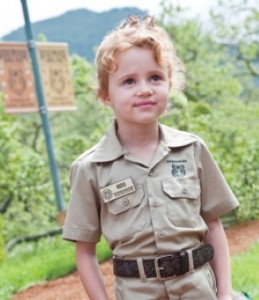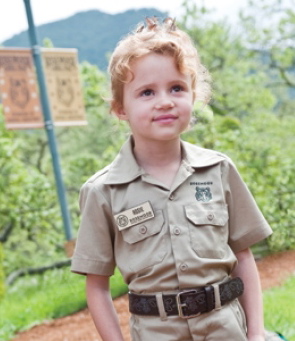 that he is one in real life, but regardless, his performance is spot on. And his little sister in the movie, played by Maggie Elizabeth Jones, is a scene-stealer. She is a heart-stealer as well. She seems much younger than her real and on-screen age of seven, and every mom in the audience will fall in love with her darling little cheeks and dimples, her curly, strawberry-blonde hair and her bubbly, upbeat personality.
Although this film is marketed as exploring themes of "sacrifice, hope and service," its negatives outweigh the positives, in my opinion. One such negative is the use of inappropriate language. If a movie is rated PG, such as this one is, I might expect an occasional instance of rough language that is integral to a character's portrayal or an intense scene. But in Zoo, the Lord's name is used in vain at least once, and I counted at least seven other instances of vulgarities using five different phrases. And in one scene, a companion of Kelly's tells her that the zoo inspector, Ferris, "lusts you!"
Another problem with this "film for families" is the gory, morbid and violent artwork that Dylan produces not only in school, but during the many hours he spends brooding and drawing in his sketch book. I'll bet more than a few children under age nine or so would find these images unsettling, if not out-right nightmare producing. Another caveat for parents is that one of the zoo keeping team members is a hard drinking man with violent tendencies.
Finally, both Damon and Johansson are poor role models for Christian children. Damon bashes America so often that he has been accused of hating our country. And Johansson is so pro-abortion that one pro-life writer says she is now boycotting all of her movies (http://liveaction.org/blog/5-female-celebrities-im-boycotting-and-why/). I, for one, think it is important to expose our children to good role models even in the movies. Think Jim Caveziel and Patricia Heaton instead of these two well-known, left-wing Hollywood stars.
This film gets a "thumbs down" from me. With what you save by not purchasing this DVD, you can treat your family to a take-n-bake pizza with all your favorite toppings, while enjoying another viewing of Toy Story 3. And if your kids feel they missed out on seeing all the zoo animals staring in We Bought a Zoo, take them to a live zoo instead in the near future. I guarantee, the live animals will be more interesting and you won't need to deal with the cussing, the hard drinking or the other questionable elements of this movie.
We Bought a Zoo debuts on DVD and Blu-ray on April 3rd. It is available through Twentieth Century Fox Home Entertainment and is marketed by Allied Faith and Family, Atlanta, GA. It got a Dove.org rating of 12+.