by
Jann FritzHuspen
on Mar 02, 2013 in
Apologetics
,
Catechesis
,
Columnists
,
Featured
,
History
,
On Media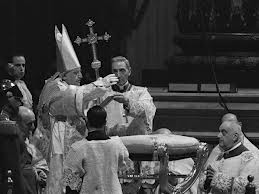 Recently, Pope Benedict XVI, now Pope Emeritus, criticized the media for it's continued misrepresenting of Vatican II. In response, NET (New Evangelization Television) debuted a 10-part weekly series called Vatican II: Inside the Vatican Council, on Thursday, February 21 at 8:30 PM ET.

CNA/EWTN reported that "Pope Benedict XVI said that many of the misinterpretations of the Second Vatican Council were caused by the media promoting its own version. 'The world interpreted the council through the eyes of the media instead of seeing the true council of the fathers and their key vision of faith,' said Pope Benedict at Paul VI Hall on Feb. 14. 'Fifty years later, the strength of the real council has been revealed, and it is our task for the Year of Faith to bring the real Second Vatican Council to life,' he told the priests gathered to meet him."
NET's Vatican II: Inside the Vatican Council focuses on the history of Vatican II to educate, enlighten and entertain viewers with a joyful, inspiring and faithful perspective. By examining the events leading up to this milestone, the council itself and how it has shaped the faith of people today, this fast-paced program includes commentary from experts around the world. Shot in Rome, Vatican II: Inside the Vatican Council speaks to the "living history" of the event, profiling the council popes, but also celebrating the life of Benedict XVI, who served as a theological expert to the bishops at Vatican II and made the council's themes central to his pontificate.
Vatican II: Inside the Vatican Council comes from the same team that produced the Catholic reality series Minor Revisions with Jennifer Fulwiler, which airs on NET and Verizon On-Demand.
NET is on New York City's TimeWarner Channel 97 and Cablevision Channel 30. NET is available worldwide via NETNY.net and has set up a direct website for the series @ InsideVaticanII.com. You can watch the full episodes of Vatican II: Inside the Vatican Council at http://youtu.be/BOCJLb_6a_E