by
Jann FritzHuspen
on May 08, 2012 in
Columnists
,
Featured
,
On TV and Movies
,
Video
,
Women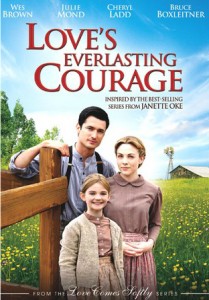 Popular Christian author Janette Oke's first book was Love Comes Softly. Janette was born during the depression years on a Canadian prairie farm and she remembers her childhood as full of love, laughter, family life and faith. Janette drew upon these themes for her debut novel and her many other popular books that followed.
I remember staying up all night reading Loves Comes Softly shortly after it had been released. I was pregnant with my second daughter and had a toothache that night that just wouldn't quit. So I prayed from the Psalms, then picked up Janette's book and read it straight through!
That was nearly twenty-seven years ago and now Twentieth Century Fox Home Entertainment is bringing this beloved story to the screen in an adaptation titled Love's Everlasting Courage.
Clark (Wes Brown) and Ellen (Julie Mond) Davis, and their young daughter Missy (Morgan Lily) are struggling to forge a life for their family on the prairie in the 1800s. There has been an extended drought and both of the wells that Clark dug have gone dry. Clark now has to resort to hauling barrels of water up from a creek just to keep their livestock alive and their meager garden growing.
Finally, with Clark protesting, Ellen takes a job in town as a seamstress—for they are a number of bank payments behind and they have already been given an ultimatum by a bank representative—pay up or lose their land!
Soon Clark's parents, Lloyd (Bruce Boxleitner) and Irene (Cheryl Ladd of the older Charlie's Angels fame) arrive at the Davis homestead for a visit. Of course they are disappointed that Ellen must work in town and leave their granddaughter, Missy (Morgan Lily) with her father during the day. But the grandparents are not in a position to help financially, so it seems to be an answer to their financial issues.
Within a short time, Ellen comes down with a fever but the doctor is not around. Clark gets the local midwife, who knows a bit about medicine to come and look in on Ellen. They soon learn it is scarlet fever.
As in all of Oke's stories, in this made for television movie there are tragedies that must be faced and overcome with faith. There is a death and a serious fire. And it seems to Clark, (as it may to many of us at times) that for some reason God allows His people who trust in Him and try to live just lives, to be greatly afflicted at times.
But in the end, God's faithfulness breaks through and tragedy is overcome and faced with new courage. Like Oke's characters, we too, can see the Lord's faithfulness in our lives if we look with eyes of faith.
Love's Everlasting Courage is a bit predictable and even sappy at times, but it's a movie that can be viewed by the just about the whole family. Personally, because of a death and a fire, it might be best to watch it once the littlest ones are tucked in for the night. But then, you can watch it in good conscience, knowing that the Lord's name won't be used in vain, there won't be any cussing and there will be a heartfelt message of faith that wraps up the story in the end.
This Hallmark Channel movie DVD will be available just in time for Mother's Day on May 8, 2012. A digital discussion guide is available here: http://bit.ly/Ihn4k9