by
Peggy Bowes
on Nov 03, 2011 in
Columnists
,
Featured
,
On TV and Movies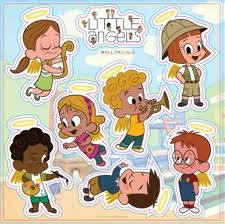 When most people think of Roma Downey, they think of angels due to her long-standing role as Monica in Touched by an Angel.  It will probably come as no surprise that she is the executive producer of an exciting new DVD series for children called Little Angels.  She took a few minutes out of her busy schedule to talk to me about the new series and a few of her other passions.  If only I could duplicate her charming Irish lilt…
Peggy Bowes:  What inspired you to create the Little Angels DVD series?
Roma Downey:  One of the central inspirations was a little prayer that we would say at home growing up in Ireland:  "God in heaven, my Savior dear, watch over my children and draw Thou near.  Send little angels to be at their side, to light and to guard, to love and to guide."  So in our series, the mother says this prayer to the sleeping children.  We have four year-old twins, Alex and Zoe, fast asleep safely in their nursery.  As she closes the door, the camera pans back and we see that in the moonlit light, up on the ceiling, is a mural.  On that mural are painted eight little angel characters who come to life and kiss the sleeping children and tuck them in.  It becomes clear to us that the little angels are around the children to protect them and guide them.  During the day, when the parents aren't around, the angels come down and serve as teachers, instructors and guides.  They help the kids learn not just practical things like A-B-C's and 1-2-3's and animals, but they teach the children the importance of traditional values — of the importance of being kind, cooperating, hard work, perseverance and good manners.  I think it's just a wonderful series to add value to your home.  It's offered to parents and grandparents as a support system, as a tool to help raise your family and support the values that you share.
Peggy:  The Bible only names three angels, but there are many more named in other Jewish and Christian writings.  How did you choose the eight angels who guard Alex and Zoe?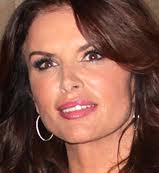 Roma:  We decided to come up with a cute little "choir" of angels that would cover a range of personalities that would inspire the children watching.   Our hope was that we would cover enough personality types that every child watching would be able to relate with at least one of these angels.  We have Michael, who is our little boss archangel.  He's very knowledgeable and he's the angel that the other angels go to when they have a question.  And we have Gabriel, our angel who announces.  He blows his little bugle when there is something important to say.  We have Ariel, the guardian angel who has a little sword that sometimes burns with fire when she's out there to protect the kids.  We've also added a little angel of learning.  Her name is Dina and she carries an ipad.  The kids that have seen the series so far have all been so responsive to her.  I think perhaps they relate to the electronic gadget which makes it very of-the-moment.  One of my favorites is an angel called Uriel, and he is the angel of creativity who paints pictures. 
Peggy:  Can you give parents an idea what the series is about?
 Roma:  [In one episode] the little boy has trouble tying his shoelace, and he wants to just quit.  He thinks he should just wear his Velcro shoes.  Uriel tries to explain, "If everybody just quit when something got too hard to do, then nothing would ever get done.  Consider Noah, if you would."  The boy scratches his head and says, "Who's Noah?"  And so Uriel, the artist angel, paints a picture of the ark.  The angels are able to take the children, as if in a dream, into the picture.  They time travel back to our Bible times with our beloved Bible characters.  They're standing next to Noah, who is building the ark.  Indeed, Noah shares with them that it has been very hard work and there was many a time he wanted to quit because he's been building it for years.  But he has obeyed God and he trusts God who has told him that rain will come.  Even though all the neighbors have made fun of him and he's felt perfectly silly sometimes, he's going to keep doing what God has asked him to do.  The kids see the rain clouds and get to witness Noah saving the animals two by two.  When the flood comes, a little tiny wave washes the kids back to the nursery where the angel is able to deepen the lesson just learned.  "See, Noah didn't quit.  And if Noah had quit, the animals wouldn't have been saved.  We're so grateful that Noah persevered.  The little boy picks up his shoes and his shoelace and once again tries to tie his shoe and this time he's successful.  So that way, you see, we're able to weave an introduction to the Bible, a value we want our child to learn, in this case to persevere, and it's all presented in a very fun and uplifting way.  If it's not fun and entertaining and compelling and dynamic, they're not going to watch it.  I gathered the best animators and the look is so cute!  Your readers can go to www.LittleAngels.com [to learn more].  I couldn't be more pleased with how it's turned out.
 Peggy:  You offer some great suggestions to parents on the DVD bonus features.  How has becoming a mother changed your perspective?
 Roma:  Becoming a mother changed my whole life or course, like everybody.  I am now the mother of teenagers which has brought its own challenges.  We have a great deal of eye rolling in my house these days.  But I am happy to report that we have two musical CDs that we are releasing with the Little Angels collection.  In both of these CDs, my oldest boy, James, who is a very fine musician and my daughter, Reilly, who has a beautiful voice, have participated in the making of the music for Little Angels.  That was very gratifying and very rewarding to work together on this as a family.  I have many gifts, but music or singing were never one of them so it was lovely for me to have them involved in this.  But you know I honestly can say that I wish I had something like this when I was a young mother.  I know as a working mother, there were many times I had to stick my kids in front of a DVD because I was busy juggling things.  I had calls to make or I had to deal with a plumbing emergency or a variety of things that come up during the day.  Watching a quality show like this can buy a parent a little bit of space.  It seems to me that if your child is watching something, wouldn't you rather that they watched something of value that was adding to their worlds and their minds?  They're learning their alphabet or how to count, but it's also enriching their spiritual life.  We go back into the Old and the New Testament.  The children in our stories get to meet Jonah, Noah, Joseph and Adam and Eve.  They get to go and observe Jesus teaching.  It's a beautiful and age-appropriate way for this little preschool audience to get a sense of these characters.  It's also a great opportunity for parents to begin a conversation with their children.  You've watched the DVD and now you're sitting having snacks together and you can talk about what you've seen and how that made you feel and who's your favorite character.  There are all kinds of opportunities.  I know that at this age our young children are so impressionable and that the lessons learned will stay with them their whole lives.  Little Angels is something for the whole family to share together.
Peggy:  My Catholic readers will be interested to know that your brother, John, is a priest.  Is he praying for the success of this series?
Roma:  Oh, yes he is!  He's been a great support and has been interested to see it the various stages along the way.  He has a parish in County Derry.  I was born and raised in Derry City in Ireland, and he is jokingly and lovingly known in our family as "Father Brother."  In fact, in just the next week, my dear friend, Fr. Paddy O'Cain is coming out to California to visit us.  My daughter, Reilly, is in Confirmation and Fr. Paddy is her godfather and her sponsor.  He's coming out to check in on her and make sure she's on the right path.  We're members of Our Lady of Malibu, which is our local Catholic parish out here.  
Peggy:  Since my dad was born with a cleft lip and palate, I'm especially interested to know more about your role in the Operation Smile charity.
Roma:  Operation Smile is a fantastic organization that I have been associated with for maybe 15 years.  I've been their spokesperson; I've traveled the world with them on international missions to third world and developing countries.  We're a volunteer group who repair children with facial deformities, primarily cleft lip and cleft palate.  It's just beautiful work.  It's a 45-minute operation which costs only about $250 a person.  They restore a face to a little child somewhere in the world who never thought they would have an opportunity for a normal life.  Operation Smile has the loveliest slogan.  They're changing lives one smile at a time.  Sometimes people think there's so much need in the world that they feel a little bit paralyzed.  "What can I do? I'm just one person."  Operation Smile reminds people that we can't help everybody but we can help one person.  We can make a difference in the life of one person, one smile.  If we all did something, then surely together we can all change the world. 
Peggy:  Do you have a patron saint or favorite Catholic devotion? 
Roma:  Well, I guess growing up in Ireland, it would be hard not to have grown up loving St. Patrick and St. Bridget.  My mother passed away when I was a very young girl.  I was only ten.  At that time I began my lifelong devotion to Mary, the Mother of God.  I needed her then more than ever, and so I have a wonderful loving relationship with Mary as part of my daily prayer routine.  She stepped in to mother me when my own mother had passed.
The Little AngelsDVDs and CDs were released on November 1st.  You can learn more at www.LittleAngels.com