by
Michele Marie
on Apr 05, 2017 in
Featured
,
Parenting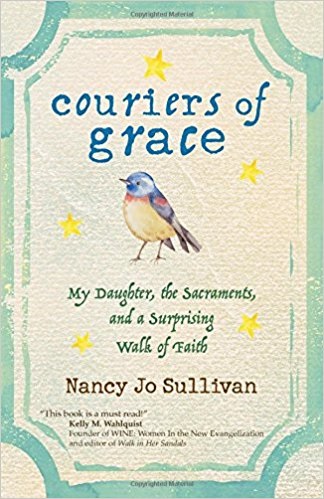 There once was a very special girl. Sarah was her name: a name that means Princess. This princess happened to be born with Down syndrome. Little Sarah grew up telling those around her that she had a perfect life! "If someone made an unkind remark about her appearance, she would smile and wave at them."
Nancy Jo Sullivan has written a beautiful book that shows how the life of her very special daughter served as an impetus to help her slow down and discover all that is sacred in the ordinariness of everyday life.
Sullivan beautifully weaves together the story of the brief life of her daughter Sarah with her own renewed understanding and love for all the sacraments. Through the author's eyes, we are led to see each of the sacraments in a new light. Through her daughter's vision, we come to understand the preciousness of our Catholic faith.
This story starts in the delivery room, when Sullivan's doctor says, "I'm sorry, your baby has Down syndrome." This leads Sullivan to pray, "Lord, there must be some mistake." Although Nancy Jo grew up in large devout Catholic family, Nancy's faith was little more than a set of rules to follow. Like many of us, she thought that by following the rules of her faith she would, "Somehow escape the heartaches of life." God wastes no time in revealing to Sullivan that though her daughter does have Down syndrome, she is a very special gift to her family.
As I read, I smiled many times as Sullivan's stories showed her daughter's personality and simplicity bringing light, faith, and joy to her family. For example, little Sarah's stuttering encouragement to "f-f-forgive" allows the author to realize she has her own disabilities due to her own inability to forgive. Sarah's words bring the author back to confession, after having spent many years away from the confessional.
The sacraments are weaved in with stories throughout this book. When Sullivan was 10 years old, she fell through some ice into dark, murky, cold pond waters. She called out to God, "You gotta save me!" She then felt like someone or something was pulling her out and found herself standing at the edge of the pond.  "God, why did you save me?" she wondered. Years later, at Sarah's baptism, as she listens to the priest as he pours the baptismal waters on Sarah, Sullivan realizes how Baptism draws us from the overwhelming waters in our life to the light of life with God. Through Baptism we are pulled from the murky waters of sin to new life.
Each of the seven sacraments are intertwined with memories, stories, and insights throughout this book. What would this story have been if the special daughter hadn't been given a special mother? Sullivan is a mother who understood her princess: a mother who was able to read the signs, see the clues, and embrace and transmit the message that comes with a special needs child. Through this story, the reader will become convinced that any special needs child is truly a blessing to her family and all who know them. This book is a gift to any parent raising children, especially in faithfulness to our promises to pass on the Catholic faith to their hearts.
(At the end of the book are Reflection Questions that can be discussed with a group, or pondered on your own.)
Nancy Jo Sullivan is a Catholic author and speaker who resides in Minneapolis. Her books and articles have been published by Random House-Multnomah, Loyola, Reader's Digest, Guideposts, Catholic Digest, and The Huffington Post. Her newest Book, Couriers of Grace-My Daughter, The Sacraments and a Surprising Walk of Faith, was just released by Ave Maria Press. To order, visit Ave Marie Press or Amazon. Contact: www.NancyJoSullivan.com.