by
Catherine Cash
on Apr 04, 2017 in
Dating & Singles
,
Featured
,
Vocations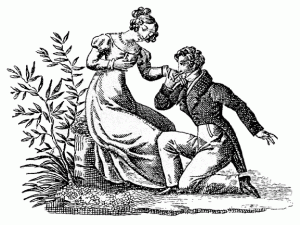 Single Catholics: the Vocations Solution
It is widely known, in both Catholic and non-Catholic circles, that the Catholic Church is experiencing a shortage of priestly and religious vocations at this time. We often hear prayers at Mass for an increase in these vocations. There are those who are called by God to this vocation who have responded with great generosity. I admire and pray for these people. The sacrifices they make, from which the rest of the Church benefits, are not always appreciated or acknowledged to that extent that they should be. I really feel for our priests and religious at this time.
Why the Well has Run Dry: Declining Marriage Rate Leads to Fewer Priests
The Church has been working to address this shortage for some time. Various ideas have been laid out on the table. One of the newer insights into this problem involves the connection between the vocation to the priesthood/religious life and the vocation to marriage. Vocations to the former ultimately are fostered in the family. This is particularly true within very devout families. The family is a kind of food source for future priests and religious, and that source has been drying up for some time.
Cardinal Timothy Dolan of New York explains it quite well:
"Dolan recalled a 'well-said' observation offered some years ago (when he was archbishop of Milwaukee) by an archdiocese pastoral council member. The council was discussing ways of increasing vocations to the priesthood and consecrated religious life. In that context, the pastoral council member stated that, 'The greatest vocation crisis today is among lifelong, loving, faithful, life-giving marriages.' She added, 'You take care of that one, and you'll have all the priests and sisters you need.'" Cardinal Dolan Sees New Urgency Around Marriage .
Although many people are aware of the shortage of priests and vowed religious, few are aware that a shortage to the vocation to marriage exists as well. In this instance, ignorance is not bliss. The divorce rate is one of the factors in this shortage, but the larger part of the problem is the low marriage rate. Emma Green in The Atlantic writes, "Beginning in 1970, however, Catholic marriages went into decades of steady decline, until the turn of the new century—when that decline started to become precipitous: Between 2000 and 2012, Church weddings dropped by 40 percent," according to The Spiritual Significance of a Traditional Church Wedding
This is what puzzles me about the whole situation. Even if the Church sees no need to remember single Catholics from a pastoral sta
n
d
point, I have to
wonder why an attempt at prayers and encouragement isn
'
t made for very practical reasons. Since priests and
r
e
ligious start with the family, and family starts with two singles, shouldn
'
t we begin being mindful of our single members? It
i
s
not unreasonable to wonder: if we
'
d been praying, thirty or forty years ago, for those singles who were called to marriage, would we n
ow
b
e experiencing the kind of vocations shortage we see before us?
Her
e
'
s another unpleasant thought: if the marriage rate continues at the same low level or drops even further,
w
i
l
l we have even fewer priests and
religious thirty or forty years from now? Logically, and unfortunately, the answer seems to be yes.
For those who may need more convincing as to the
c
o
nnection between the Catholic marriage rate and future vocations, here
'
s a link to a story about a Catholic couple whose youngest child eventually took center stage in the Catholic Church: 
Real Love
The First Step
Several years' worth of research on the topic of single Catholics has led me to some very definite conclusions, and here's one of them: singles need prayers.  Those who honestly want to fulfill their vocation to marriage, in the midst of a depraved society, need all the prayers and encouragement they can get.  Trust me, single Catholics definitely don't get these things from the world.  Another conclusion: if the church of today doesn't respond to these issues, the church of the future will be the one paying the price.   My single friends and I are praying for priests and religious vocations; why can't someone pray for our vocation to marriage in return?
Cardinal Dolan seems to be in the same frame of mind on this point.  His Eminence has suggested, "a 'new phrasing' of a prayer of the faithful during Masses. His rephrased prayer would petition God 'for an increase in vocations to the priesthood, consecrated life and the sacrament of marriage.' "  Cardinal Dolan Sees New Urgency Around Marriage.
Seriously.  It's a simple, yet far reaching, first step in the right direction.