by
Michele Marie
on Feb 06, 2017 in
Arts, Leisure & Culture
,
Featured
,
On Books
,
Poetry

she: robed and wordless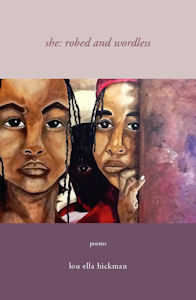 I opened this jewel of a book, hoping beyond hope that it would be filled with the type of poems that would inspire my prayers. I was not disappointed. After reading through the poems in Sister Lou Ella Hickman's new collection, I am pleased to say she has done a wonderful job.
In her book, Sister Lou Ella starts at the beginning, in the Old Testament, with both familiar names like Leah, Ruth, Esther, and unnamed women: Lot's daughter; Absalom' wife; and King David's mother. Then we are taken to the women of the New Testament. There, as we settle into our comfy chair, we can read, ponder, and pray the gospels with Sr. Lou Ella's assistance. These little nuggets of insight will help us become more acquainted with our loving God. While reading the poetic thoughts of women, as they go through their biblical adventures and trials, we journey with them, as in the following poem:
Mary, after the death of her husband, Joseph
he, too, was my treasure—
he loved beyond the reach of words
that embraced the beckoning of dreams…
With these lines I remember that Mary loved Joseph, having spent many years in his company. For Joseph, she cooked, sewed, cleaned, and lived. Now alone, she ponders he who was both treasure and family. Mary, how you must have missed him, and then later, Jesus. How did you bear the loneliness?
Sr. Lou Ella's unique voice and well-crafted poems examine not just the imagined thoughts and ponderings of the women of both the Old and the New Testaments, she reveals depths to the mysteries in the bible as well. These short, gentle poems stir the imagination, and serve the reader as a springboard to prayer. Sr. Lou Ella is able to get to the heart of things:
woman bent with infirmity
I was less than servant animals
voiceless in their grazing or being
…on the fringes"
Or
the woman with the hemorrhage "…I was tired of their pity…"
These poems remind us that Jesus chose to perform his greatest miracles for the poor, the lonely, the widows, and the forsaken. WE are the poor, the lonely, the widows, and the forsaken, whom the divine physician wishes to heal. By placing ourselves in the Gospel scenes, we become more familiar with God. He shows us in these scenes: though the world may forget us, He has not, and will not, forget us. He wishes to heal us. He seeks us out, like he seeks out those in the bible. What words would you or I say to him there, in those scenes? As you read, you may find yourself stopping, as I did, to talk to Our Lord like those who came face to face with him did.
Sr. Lou Ella's takes on these familiar stories in ways that lead the imagination on new paths. Although the poems are the voices of many women from the Bible, the truths revealed are for all of us.  These poems supply the reader with many what ifs. What if we could talk to these women? What if they could respond to us? What would we learn? What would we ask? These poems bring these women to life, and along with them, the gospel scenes themselves.
In the following poem, a woman, an imagined bystander ponders the love of a father, Jairus, for his daughter-
an early disciple ponders the story of Jairus
i as a woman
have often wondered
who was this man, this father
who loved a child – a girl…
How many men and women (who haven't known the love of a father)  study the curious movements of those men who not only got it right, but relished their fatherly role? Who are these men ? How many women will weep as they read Sr. Lou Ella's words of a woman amazed at a father's tender love for his daughter?
Not only will this book help you come to know the women of the bible, but these beautiful poems are sure to trigger your imagination and prayer.
Sister Lou Ella Hickman is a member of the Sisters of the Incarnate Word and Blessed Sacrament of Corpus Christi, Texas. She has a master's in theology and has taught on all levels, including college. She has worked in two libraries before working in a parish. Presently, she is a freelance writer as well as a certified spiritual director. Her poems and articles have been published in numerous magazines, including After Shocks: Poetry of Recovery for Life-Shattering Events, edited by Tom Lombardo, and in Down the Dark River, edited by Philip Kolin
You can find this new book of poems at  Press 53