by
Mike Eisenbath
on Oct 12, 2015 in
Disability, Sickness & Suffering
,
Evangelization
,
Featured
,
Those in Need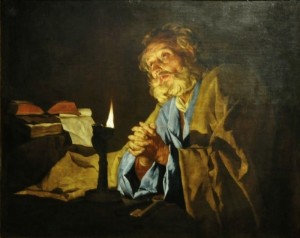 Suddenly, quite surprisingly, I find myself deep in despair.
Despair for my family and friends. Despair for my parish and my Catholic Church. Despair for myself, my work, my apostolate and my health, for my community and my country and my fellow human beings, for my prayer life and my faith and the souls of everyone around me.
It feels deeper and darker than times past. A part of me wonders where I can find hope. I try turning to God for that hope, my only real source in previously dark days. He says, "not now." I ask when. He responds only, "Some time."
I awoke at 5 a.m. this particular Sunday morning after sleeping only a few hours. It had been an exhausting Saturday spent in some oddly unfamiliar places. The physical places were customary — a local restaurant for my weekly early-morning prayer group, my house with my wife and grandsons, my recliner in the living room, writing on my laptop computer, an evening dinner with extended family at an area park. But I felt alien. In an uncharacteristic verbal display, I vented to my buddies about some things that morning. The rest of the day was unsettled, uncomfortable.
I hesitated through Evening Prayer; I felt like I was just saying the words of Night Prayer. Sleep didn't come easily. My mind and body fought it. I talked to Jesus, asked Him what was going on. The peace I had sensed so often in August seemed to have melted quickly in that warm September. Why? Was I not deserving of peace? Why this slowly intensifying heat in my heart?
When I awoke at 5, something didn't feel right at all. Not in my mind. Not in my heart. Not in my soul.
The weight of so much: A seemingly never-ending barrage of thoughts and images assault my brain. Visions of the lifeless body of a little boy washed onto a seashore and countless thousands other Syrians fleeing war and death, with relatively few offering refuge. Beheadings of Christians. Bombs dropping. Children starving. Immigrants — again, often children — seeking a safer life in this country only to find angry people who don't want to share wealth or freedom, instead wishing to send them back to their version of hell. Souls wandering lost, in my community and even my own circle of family and friends, many times headed for dreadful places, lonely places.The depression. The grief. The sadness.
The concern for my Church, our Church. In our archdiocese as in the rest of the world, we are on the cusp of a serious shortage of priests and religious. Attendance at Mass is down. So many of our young people are missing. People of my generation are missing. It seems to be a time crying for boldness, for courage to radical change — not in dogma or teaching, but the way we love each other and lead others to Christ.
I fear we won't change in ways that we can and should. People are hurting — including me — and I don't know how to help. I want to turn to my wife, my best friend, my friends from my parish, anyone who might have an answer. But I can't.
So I sit in my recliner for Sunday Morning Prayer and begin with the Invitatory. Psalm 95. The Holy Spirit guides me to this:
Today, listen to the voice of the Lord:

Do not grow stubborn, as your fathers did in the wilderness,

when at Meriba and Massah they challenged me and provoked me,

Although they had seen all of my works.

Forty years I endured that generation.

I said, "They are a people whose hearts go astray

and they do not know my ways.

So I swore in my anger,

"They shall not enter into my rest."
"Lord," I ask, "are you angry? With me? With us? Are we a people whose hearts have gone astray? We need the darkness to fade into your marvelous light. I don't want to carry this any longer. Please let us enter into your rest."
"Some time," God responds again. "Not yet."
Not yet. I will cling to those words, as should we all. They contain hope. And we need all we can find.
This column was previously published in the St. Louis Review.