by
Mike Eisenbath
on Feb 17, 2015 in
Disability, Sickness & Suffering
,
Evangelization
,
Featured
,
Live in Christ
,
Those in Need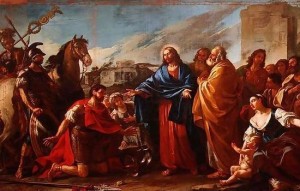 Do you ever want simply to "be better" from something … from any thing?
It could be something that ails you, such as cancer or diabetes or endometriosis, heart disease or asthma or some other chronic health condition. It could be an addiction – to smoking or drinking alcohol, drugs or food or pornography. It could be a mental illness, such as chronic depression or severe anxiety, bipolar disease or an eating disorder.
It could be a serious financial crisis or family discord. It could be a rift in an important friendship. It could be a spiritual crisis – difficulty in believing something about God, trusting God, or a certain serious sin that has become a habit.
Whatever the concern, it makes life less enjoyable and more like a chore – for you and perhaps for those you love. You have visited the doctors, taken the medication, undergone the recommended treatments. You have tried therapy, changed your diet, exercised. You have met with a priest or minister. You have prayed and asked people to pray for you.
And still … this is you. This is your life. This is your reality.
Have you given up hope?
It's understandable if you have. That's what most people in your situation do. Actually, it might be less that they give up hope than that they accept the situation. They might reach a place where it's just assumed the chronic disease will show up again and take its usual toll. Or that they aren't strong enough to fight the addiction, so they don't even try any more. Or they give up looking for a better job or a suitable mate.
Or the sin. "God can't love me like this," they might say. So they give up faith, in everyone and everything.
I have four "Jesus stories" for you. Please, stick with me.
Matthew 8:1-3: When Jesus came down from the mountain, great crowds followed him. And then a leper approached, did him homage, and said, "Lord, if you wish, you can make me clean." He stretched out his hand, touched him, and said, "I will do it. Be made clean." His leprosy was cleansed immediately.

Luke 4:38-39: After (Jesus) left the synagogue, he entered the house of Simon Peter. Simon's mother-in-law was afflicted with a severe fever, and they interceded with him about her. He stood over her, rebuked the fever, and it left her.

Matthew 8:5-10,13: A centurion approached (Jesus) and appealed to him, saying, "Lord, my servant is lying at home paralyzed, suffering dreadfully." (Jesus) said to him, "I will come and cure him." The centurion said in reply, "Lord, I am not worthy to have you enter under my roof; only say the word and my servant will be healed. For I too am a person subject to authority, with soldiers subject to me. And I say to one, 'Go,' and he goes; and to another, 'Come here,' and he comes; and to my slave, 'Do this,' and he does it." When Jesus heard this, he was amazed and said to those following him, "Amen, I say to you, in no one in Israel

*

have I found such faith. And Jesus said to the centurion, "You may go; as you have believed, let it be done for you." And at that very hour [his] servant was healed.
Mark 2:4-5,8-12: Unable to get near Jesus because of the crowd, they opened up the roof above him. After they had broken through, they let down the mat on which the paralytic was lying. When Jesus saw their faith, he said to the paralytic, "Child, your sins are forgiven." Jesus immediately knew in his mind what they were thinking to themselves, so he said, "Why are you thinking such things in your hearts? Which is easier, to say to the paralytic, 'Your sins are forgiven,' or to say, 'Rise, pick up your mat and walk'? But that you may know that the Son of Man has authority to forgive sins on earth," he said to the paralytic, "I say to you, rise, pick up your mat, and go home." He rose, picked up his mat at once, and went away in the sight of everyone. They were all astounded and glorified God.
Each of these stories is about prayer, about appealing to Jesus for something no one else could provide.
There is the person who simply asks, and Jesus responds with a simple "yes, you are healed." There is the person who has a friend or family member praying for them – a friend who perhaps doesn't know what to expect — and Jesus again responded with a simple "yes" that involved healing.
There is the person who is healed primarily because of an urgent plea by a person of great faith. And there is the person who is granted healing – of body and soul – because of the collective faith of many friends and family members.
Have you ever asked for such healing, for a cure?
Each of those afflicted people could represent you. You can be someone who asks for your own healing. You can be someone with a friend who prays for you because they don't know what else to do or a friend of great faith who prays for you. Or you can be someone with many faithful, devoted, stop-at-nothing friends who are prayer warriors.
In one way or another, each story was about people doing what Jesus said we all can do: "Ask and it will be given to you; seek and you will find; knock and the door will be opened to you."
We can ask – for ourselves or others – and seek and knock. We can do that in prayer. We can have hope and, what's more, should have hope for healing. It's about having faith, believing that when you ask for something, not only you will definitely receive an answer from God but there can be healing.
As you can imagine, it's not a magic formula. Yes, God will answer – but the answer might be "no" for reasons we may never understand. The answer might be "no, for now" because God wants you to learn something best learned through adversity. The answer might be "no, for now" because God wants to increase your faith or that of someone in your life.
And if you ask with the belief that God can do anything He wants and might grant you healing – you might be healed. Of course, a prayer for healing doesn't mean you stop taking medication or receiving chemotherapy or visiting your therapist. It might be through those things that God heals.
Keep your mind and heart open to one possible healing: That God doesn't eliminate the affliction but heals your heart and soul to accept the affliction with joy. Indeed, faithfulness and trust can create the kind of hope we most need.
Life will then be better. And we can give glory to God.