by
Mike Eisenbath
on May 06, 2015 in
Disability, Sickness & Suffering
,
Evangelization
,
Featured
,
Vocations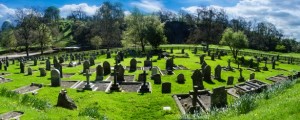 Billboards around St. Louis recently are showing a new advertising slogan for a franchise of gyms: "What Will Be Your Legacy?"
Nothing against people who enjoy working out and lifting weights — which I should do more often — but my idea of a real legacy to leave my family and friends has nothing to do with six-pack abs or well-developed biceps.
When I think of a desirable legacy, I remember what Father Jerome Earley shared on a retreat I attended. He has presided at many funerals in his life and heard countless eulogies, filled with warm memories, compliments and praise. "But there never was one where they said that when they saw the person who had died, they saw Jesus," Father Jerome related.
Shouldn't that be the legacy we all desire?
If I died tomorrow, I doubt my friends and family would go so far as to say that when they saw me, they saw Jesus. Acquaintances and strangers wouldn't say that, either. My flaws are many and deep. When I receive the sacrament of reconciliation, I have no problem quickly calling to mind sins I need to confess.
I also have no trouble focusing on virtues to desire. Foremost: humility.
As an occasional writer or speaker who frequently relates stories from my own life, I know there can be a fine line in that virtue. My life is no more special than anyone else's life, and as a person I'm neither better nor worse than anyone else. Still, I regularly use personal tales to offer insight or illustrate a point because mine is the only collection of stories that I know intimately.
Some of those recollections might have been really interesting, most probably seemed mundane or insignificant. Yet someone might glean a perspective of hope from them. If using my life's stories strikes someone as bragging, that truly isn't the motivation.
Quite the opposite, in fact.
I think often of my weaknesses. They seem constantly apparent. We all have personal crosses to carry, too, a reality that I sometimes wish would disappear. More and more, however, I'm grateful for those moments when selfishness makes me weak in my behavior or my depression seems too heavy a burden — because then, I ask for Jesus to take over.
I thank God for my many weaknesses. I'm grateful for my 13 years with severe depression. They give me ample reason to whisper one of my favorite prayers. I learned part of it from John the Baptist in the third chapter of John's Gospel. It has become my mantra especially after I receive Holy Communion:
Dear Lord, please let Mike disappear in the eyes of the world. Let me turn into that which I consume. Allow me to become you. Jesus, may you increase, and I decrease.
I say it when I feel weak, selfish, hurt, tempted … Jesus, may you increase, and I decrease.
I say it when I have difficulty getting out of bed, cry for no apparent reason, sense an inexplicable sadness … Jesus, may you increase, and I decrease.
I say it when I want something I shouldn't have or don't need, when I fear parting with something to which I'm attached, when I don't love unconditionally … Jesus, may you increase, and I decrease.
It has evolved into my daily desire, starting before the weaknesses even show their ugly faces. I look into the mirror and know my limitations for the coming hours — and I tell myself to be Jesus to the world that day. To every person I meet, in everything that I say and do, I want to get out of God's way.
At my funeral, I want people to say just that: He learned to get out of God's way.
Actually, that will be the legacy of Jesus.
This column was published previously in the St. Louis Review.