by
Ellen Gable Hrkach
on Sep 24, 2013 in
Featured
,
On Books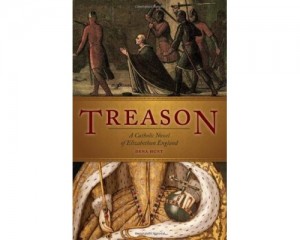 Treason: A Catholic Novel of Elizabethan England
by Dena Hunt
Published by Sophia Institute Press (2013)
"It is suffering, more than anything else, which clears the way for the grace which transforms human souls."  (Blessed Pope John Paull II, Salvifici Doloris)
This quote by Blessed John Paul II could well be the theme of Dena Hunt's exquisite novel, Treason, which takes place in 16th Century England when Catholicism was outlawed. Suffering for the faith in our current North American culture is something most modern Catholics have never considered.  Religious apathy is evidenced by half-filled churches and the large numbers of Catholics who openly dissent from Church teachings on abortion, contraception, same sex unions and premarital sex.
Since Adam and Eve, sin has been present, but what I have observed is that religious apathy, poorly-formed consciences and subjective truth have made the above sinful behaviors acceptable and the norm.  It's becoming more and more difficult for Catholics to practice their faith in our current society.
So what does all this have to do with Dena Hunt's exciting new novel, Treason?  Well, a lot.  Catholics in Elizabethan England were not permitted to practice their faith.  Monasteries had their roofs ripped off, convents and churches were looted, their artworks and artifacts were removed and stolen.
Catholics were expected to change their religion and attend Church of England services (or face huge fines). But many Catholics retained their faith and were forced underground to recite rosaries, go to confession and attend Mass when a priest was available.
Priests always bore the brunt of the crown's cruel martyrdom because they were seen as traitors: if they were captured, they were tortured, hung and before death, taken down, drawn and quartered. In fact, Treason is dedicated to Blessed Father Nicholas Postgate, "a Catholic priest who faithfully served his 'parish' in the wilds of the Yorkshire moors, always traveling by foot, until he was arrested, hanged, drawn, and quartered at York, at the age of eighty."
Lay people also suffered martyrdom during this time. Those suspected of harboring priests were hung without a trial.
Hunt's story centers around a young priest, Father Stephen Long, who arrives in England to secretly minister to the large numbers of underground Catholics.  He wonders "how many more Catholics will have to die to make Queen Elizabeth feel secure."  Every time he hears confession or celebrates Holy Mass, he knows he is committing high treason against the Crown, the penalty of which is torture and a painful death.
The other main character is Caroline.  From the time she was a young girl, Caroline has known that she has been called by God to a contemplative religious vocation.  Her mother has died and Caroline is forced by her father into a "safe" marriage to a Protestant. Her husband is not unkind, but he is frustrated by his "wife's" lack of desire.  He realizes that her love for him is no different than the love she feels towards all humanity.  For Caroline, she must keep her faith secret from her husband. Her vocation is stifled and her suffering is internal. In many ways, Hunt portrays, this is a more difficult suffering to endure.  Caroline cannot outwardly practice her faith, but more importantly, she cannot live the vocation to which God is calling her.
This is not a morbid book filled only with death. Nor is it a happy-go-lucky story. It is a difficult story to read because suffering and martyrdom were a way of life for Catholics during a time when religious liberty was ripped away from them.  In that regard, the author does an excellent job of illustrating grace in action.  Surprisingly, this novel also includes a few underlying theology of the body themes, which I did not expect from a novel that takes place in the 1500?s.
Treason is an artistic masterpiece of Catholic literature and is Catholic fiction at its finest.  It has a cast of well-developed, believable characters, beautiful writing, rich in imagery.  I savored each sentence and each scene like a piece of fine chocolate.  In fact, once I reached the end, I was disappointed.  This book is literary candy and I wanted more.
However, this novel is so much more than artistic mastery.  Treason is an inspiring story and a relevant reminder that our Catholic faith is a great gift and the freedom to express our faith is also a gift and should never be taken for granted.
This is the kind of book that should become a classic of Catholic literature.  Only 4.99 on Kindle, I cannot recommend it highly enough.  If I could give it more than five stars, I would.