by
Ellen Gable Hrkach
on Jun 18, 2013 in
Contraception & Abortion
,
Featured
,
On Books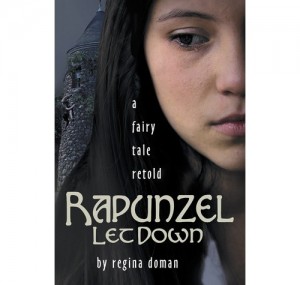 Please note: Spoiler alert.
Like her other novels, Regina Doman's new book is based on a fairy tale, this time Rapunzel. As usual, Doman puts a modern spin to the story.  To her credit, though, she is able to give us a totally different story filled with twists and turns while at the same time keeping it close enough to the original tale.  In the summary of the book, the author asks "Can sex destroy love?"
Hermes and his family are spending the summer in their New England summer house.  Hermes is 18 and has been raised in a faithful Catholic family and his father is a prominent politician. Hermes is "sick and tired of sharing his life with his father's political career and his overbearing older brothers." He and his brothers eventually discover a house nearby with a tower; one of his brothers dares him to climb the tower.  The dare ends up with Hermes falling, but not before discovering there is a girl in the tower.
Hermes eventually climbs the tower successfully. He meets and becomes infatuated with 15-year-old Raphaela, a girl with unusually long hair, smart but innocent. She is kept in the tower supposedly for protection by her adoptive mother, a radical feminist doctor who is part of "Womyn," a group that believes men are the reason for whatever is wrong in the world.
However, Hermes can't seem to stay away from Raphaela, despite the fact that visiting her is dangerous for a variety of reasons.  This attraction leads him to make selfish choices and the couple eventually become sexually active (these scenes are brilliantly done, without graphic description). The answer to the author's question "Can sex destroy love," is illustrated as we journey with the characters throughout the rest of the story.
Surprisingly enough, Hermes' secret visits to Raphaela continue for weeks; that is, until Raphaela begins exhibiting nausea, fatigue, breast tenderness. Her mother, the radical feminist doctor, recognizes the symptoms, asks her when her last period was, then gives her a pregnancy test which turns out to be positive.  Knowing that an unknown male has made her daughter pregnant, she sets a trap.  Hermes is eventually arrested and Raphaela taken away.  Raphaela, the previously sheltered naive girl, is surprised to be pregnant but happy until her mother and feminist friends convince her that she should have an abortion.  The mother's friend is the local District Attorney and convinces Raphaela to file charges not only for statutory rape of a minor, but of violent first degree rape and kidnapping.  Raphaela does not want to have the abortion, so she makes an agreement to sign the complaint and statement, knowing that the statement is not true, that Hermes did not violently rape her or kidnap her against her will.  Eventually, she comes to realize that, despite her signing the papers, her mother is going to force her to abort.  So she escapes to keep her unborn baby safe. She disguises herself and spends times in various places in order to stay hidden from her mother and her radical feminist friends.
In the interim, Hermes becomes blind and is put in prison to await his trial.  The courtroom sequences are well done and believable. When the trial takes place, Raphaela does not show up, so most of the charges are dropped and Hermes is only found guilty of statutory rape.  With time served, he will need to serve less than the year.
Eventually, Raphaela visits Hermes in prison and they agree to start their relationship over. This time, Hermes promises her that there will be no sex until they are married.
On the day Hermes is scheduled to be released from prison, Raphaela is kidnapped by her mother and taken to an undisclosed location.  Hermes realizes something is wrong.  Of course, her feminist mother treats her badly in order to get her to give her babies up for adoption.  The climax of the novel was compelling and I was clicking ahead quickly on my Kindle to read.
The strength of this particular book is Doman's ability to illustrate the consequences of immoral sexual behavior.  Even though this was the darkest of her Fairy Tale novels, this has become my favorite.  I had a hard time putting this book down. It is written beautifully, the characters are well-developed and believable, the story fast-paced.
Note to parents: this novel deals with mature themes and there are scenes of sexuality and violence (although not graphic). 
Highly recommended for 18 and up.