by
Chelsea Zimmerman
on Feb 13, 2013 in
Contraception & Abortion
,
Featured
,
On Books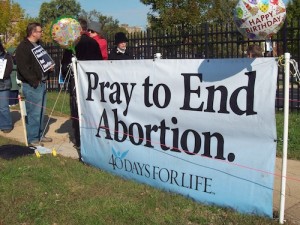 It started with just one hour of prayer in College Station, TX not even ten years ago.  Today, 40 Days for Life has grown to a bi-annual 40 day campaign of prayer, fasting, peaceful vigil and community outreach for more than half a million people in hundreds of cities across America and around the world.
Starting today through Sunday, March 24, 40 Days for Life campaigns will be held in 261 cities all across the United States and Canada, plus cities in England, Australia, Poland and Spain — and for the first time ever in Nigeria, South Africa, Wales and Russia. This will be their largest spring campaign ever.
How moving it is so moving to see such a peaceful, prayerful campaign spread so far and wide. And what a testament to how committed the pro-life faithful are to ending abortion and building a culture of life. The horror of abortion has been a legally accepted practice here in the United States for forty years. After so much time we could have easily given up hope of ever turning things around. Instead, the pro-life movement has grown significantly over the years and is stronger now more than ever before with more and more pro-lifers stepping out of their comfort zones and into the, sometimes very hostile, public eye to speak for those who have no voice.
Amazing things happen when we put our trust in God and step forward in faith. As a result of the 40 Days for Life campaign, 6,749 babies have been saved from abortion, thousands of women and men have been spared from lives of regret. 75 abortion workers have experienced conversions and left their jobs and 26 abortion centers have been closed down for good.
Every baby, every mother and father, every worker, every closure is an amazing story. This January forty of these stories were fully revealed to the public for the first time ever in the new book, 40 Days for Life: Discover What God Has Done … Imagine What He Can Do, written by David Bereit, national director for 40 Days for Life, and Shawn Carney, 40 Days for Life campaign director.
In this book, you will read dramatic, firsthand accounts of:
 Hearts changed on the most controversial issue in our culture
 Babies and mothers saved from abortion at the last possible second
 Shocking secrets from inside the closed doors of the abortion industry
 Abortion workers having conversions and quitting their jobs
 Thriving abortion centers shutting down for good
Most importantly, you'll discover exactly how you can change hearts and save lives from abortion right in your hometown.
This book has been enthusiastically endorsed by nearly every national pro-life leader. Here's what just a few of them had to say about it:
"40 Days for Life is one of the most impressive initiatives launched since Roe v. Wade. The forty stories told here are America at its best." -George Weigel, Biographer of Pope John Paul II
"These are incredibly beautiful stories – brief, crisply told, illuminating, heart-rending. Reading one a day does wonders for one's sense of human beauty and God's power." -Michael Novak, Journalist, Author, Ambassador
"I have encouraged the work of 40 Days for Life from its inception. When God's people show up at abortion centers, miracles happen, and this book is evidence of that fact!" -Fr. Frank Pavone, Priests for Life
In these next 40 days, I hope you will make some time to pick up this inspiring book and participate in this life changing, life saving event. Find the 40 Days for Life campaign nearest you to learn how you can help make a life-saving difference in your own community.
If nothing else, please click here for daily devotionals and pray and fast with us this Lent for an end to abortion and a greater respect for all human life. Don't worry, prayer is the life-blood of this campaign, so, even if that's all you can do, it's no small thing!
Lenten Pro-life Prayer
(via Priests for Life)
Father of all mercy,
We thank you for this season of grace and light.
We know that sin has blinded us.
Draw us ever closer to you, in prayer and penance.
Since you, O God, are light itself,
Give all your people a clearer understanding
Of what is sin, and what is virtue.
Grant in particular that we may see, as never before,
The profound dignity of every human life,
Including the vulnerable unborn children.
Give us grace to defend
Our brothers and sisters in the womb
By our prayers, our words,
And our self-sacrificing actions.
We pray through Christ our Lord. Amen.