by
Patrice Fagnant-MacArthur
on Nov 29, 2012 in
Featured
,
On Books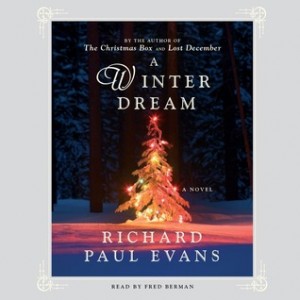 Judging from the front cover of A Winter Dream, which features a lit-up Christmas tree, one might expect that this latest offering from best-selling author Richard Paul Evans is a Christmas story. It is not; it is a story for every season. While it does open with a dream that includes a Christmas-type tree, this is actually a modern retelling of the Biblical story of Joseph and the coat of many colors. While it may be helpful to have that frame of reference when reading this short novel, the tale is a timeless one and the message just as relevant to readers today as it has been since the first telling.
In this version, the main character is Joseph Jacobson, the son of Israel, a powerful advertising agency owner who has been married four times. Rachel is his last wife, the one he loved the most and the one who gave him the last of his twelve sons – Joseph and Benjamin. All thirteen of his children (there is one sister) work for him at the ad agency, but no one doubts that Joseph is his father's favorite. This is made painfully clear when his father bestows on him his most coveted Navy flight jacket from Vietnam at a family dinner.
His brothers see a way to get a rid of Joseph when Benjamin steals $30,000 from the company. They offer Joseph a choice – he can get out of town and take the job and apartment in another city that they have arranged for him and never contact anyone in the family again, or they will prosecute his younger brother. He takes the offer, saving his brother, and discovers a new life full of highs and lows he never expected.
The story-line follows that of the Biblical version rather well, although, obviously it has been updated and altered where needed. Still, Evans has done a remarkable job of creating a compelling story that will keep readers interested even if they know the eventual outcome. He has also added a touch of romance.
This is an enjoyable story, easily read in an afternoon.  A Winter Dream, just like the original tale of Joseph, is ripe with irony. It also illustrates how God can use all our human folly and bad judgment and still bring good out of it. At the end of the book, Joseph shares a letter that his father wrote him the day he graduated from college. It includes the core message of A Winter Dream: "Do not be too quick to denounce your sufferings. The difficult road you are called to walk may, in fact, be your only path to success." That is a good reminder for all of us. This book is one well-worth spending some time with.