by
Patrice Fagnant-MacArthur
on Apr 03, 2017 in
Featured
,
Live in Christ
,
On Books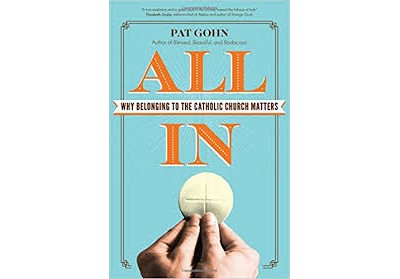 What's your relationship to the Catholic Church? Are you devoted? Dedicated but doing the minimum required? Dabbling? Discouraged or done with the Church? Unsure? In All In (Ave Maria Press, 2017), Pat Gohn invites readers to reconsider their relationship with the Church, whatever that relationship might currently be.
Gohn is a cradle Catholic, but truly fell in love with the faith in her teen years after being around joyful Catholics. As she states, her "one thing" is the Catholic faith. "I'm all in. When God came first in my life, the rest eventually fell into place and made more sense."
What convinces her to make her faith such an integral part of her life? Why does she put her faith in the Catholic Church, an institution which she admits has had its scandals and imperfections? She begins with a relationship with Jesus, rooted in love, encountered in both personal experience and in Scripture. She then explores the image of the Church as the bride of Christ. "Christ will never be separated from his Bride . . . Jesus will never divorce the Church. Jesus is permanently wedded to the Church. What is Christ's is the Church's, and all that the Church has comes from his merits, glory, power, and magnificent love."
We are all connected to God and the Church through our Baptism. "What God has joined together, we must not divide. . . Being a beloved child of God is our single greatest identity, which sheds light on everything we are and all that we do." God is our Father.  He "will never disown or divorce us. We may choose to leave him, but he will never leave us."
Gohn also explores the image of the Church as mother. "Jesus' great love for his Bride, the Church, makes the Church a fruitful mother of many spiritual children, born through Baptism. . . The family of God is born of the fatherhood of God and the motherhood of the Church."
The concept of Church as the Mystical Body of Christ, the importance of love of neighbor, and respect for the dignity of the human person are also discussed.
Gohn invites us to "view each day with an eternal perspective." Being part of the Church matters, not only in this world, but also the next.  Gohn, who has a master's degree in theology and certificates in adult faith leadership, theology of the body, and spiritual direction, offers solid theological reasons for making our faith and the Catholic Church the main priorities in our lives. In addition, each chapter concludes with an invitation to deeper prayer, suggestions for further reading, and activities to deepen one's faith.