by
Patrice Fagnant-MacArthur
on Feb 24, 2016 in
Featured
,
Live in Christ
,
On Books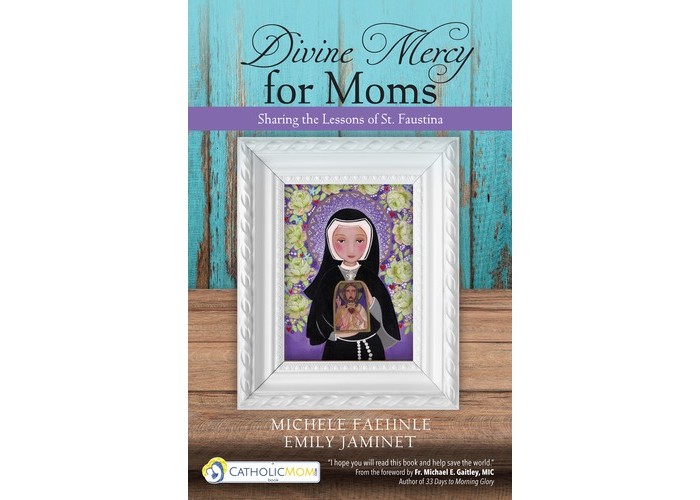 In the Foreward to Divine Mercy for Moms: Sharing the Lessons of St. Faustina, Fr. Michael Gaitley, MIC refers to St. Faustina's "Prayer of Transformation from Within." In that Prayer, "St. Faustina asks to be transformed into a living reflection of God's mercy, specifically praying that her eyes, ears, tongue, hands, feet, and heart be instruments of God's tender mercy." Gaitley goes on to affirm that God "wants to use not just Faustina, but all of us as instruments of His mercy."
Michele Faehnle and Emily Jaminet are both busy moms of several children. In Divine Mercy for Moms they see to "give you some practical ways to implement mercy in your life as a mother," and emphasize that "mercy should be our focus as mothers."
They begin with a short biography of St. Faustina, the Apostle of Divine Mercy, and the history of the Divine Mercy image. The next chapter focuses on the elements of the Divine Mercy devotion: the image, the feast, the chaplet, the hour of great mercy, and spreading devotion to Divine Mercy. Chapters three through six focus on how we can show mercy to our neighbors (including our families) through the spiritual and corporal works of mercy. The final chapter illustrates how our Blessed Mother is the Mother of Mercy and a role model for all of us. Each chapter begins with a quote from the Diary of St. Faustina and ends by offering practical tips for living a life of mercy.
The Appendices include much helpful information. There are prayers, a "Thirty Days of Mercy" which offers mini-reflections on quotes from the Diary of St. Faustina, and a study guide for group use of this book.
In this Year of Mercy, Divine Mercy for Moms offers both spiritual nourishment and practical advice for performing works of mercy. It is heartily recommended.