by
Nancy Jo Sullivan
on Mar 08, 2017 in
Featured
,
Learn & Live the Faith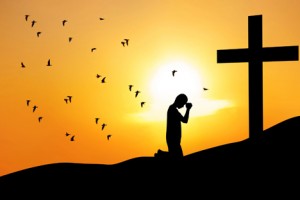 "But when you pray, go to your inner room, close the door, and pray to your Father in secret. And your Father who sees in secret will repay you." (Matthew 6: 1-6)
I begin most mornings working out on a treadmill at the local gym where sixteen television screens flash before my eyes. Each channel is a beam of news, weather, and captioned commentary. My gym-mates talk on their cell phones while pedaling bikes and lifting weights.  Meanwhile, rock music blares and I keep running.
Screens, ringtones, noise, and movement are part of our modern culture. But as we begin Lent, Jesus beckons us to un-plug ourselves from the flash of life.
In our readings for Ash Wednesday, we were invited to slip away to our "inner room" and "close the door." It's an invitation to meet Jesus each day, in the solitude of prayer. But for most of us, this is easier said than done. How do we begin to un-distract ourselves?
Consider creating an "inner room" in your home. Try removing all clutter from a spare room or corner and set up a small table with a cloth and pretty candle. Consecrate the space to the Lord and let it become your sanctuary from sounds and screens. Decide on a prayer time that works for you, even if it's only a few moments a day.
In the silence, perhaps you might ask: Lord, where are you leading me? What doors do you want to open? What changes do I need to make? Lord, show me what an undistracted life might look like.
Lead me to the pastures of your presence. Let me find peace in you.
Ask for what you need, and pray for the needs of others. When it's totally quiet, you might hear yourself say: Thank you Lord.
In the inner room of your heart, there won't be any flashy commercials or ring tones.
Your only distraction will be God.