by
Nancy Jo Sullivan
on Mar 12, 2017 in
Featured
,
Sunday Reflections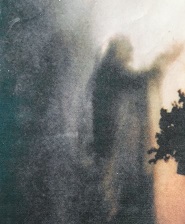 While he was still speaking, behold,
a bright cloud cast a shadow over them,
then from the cloud came a voice that said,
"This is my beloved Son, with whom I am well pleased;
listen to him."
Matthew 17:109
When we moved my mom into assisted living, my sister Annie and I cleaned out a cedar chest in her bedroom. Inside we found a stack of old greeting cards that my mother had saved. One postcard caught our attention. At first glance, we saw the photo of a tree at sunset, framed by backdrop of dark clouds. But when we turned it upward, a much different image surfaced. "That looks like Jesus," my sister said.
At first I was skeptical. But when I took a closer look, I couldn't deny the outline of a man in a robe, standing in a beam of light. "This is amazing" I told Annie. There was no signature on the card and my mom doesn't remember who sent it.
We can never prove that it's an image of Jesus, but the photo gives me pause. In the scriptures, clouds have spiritual significance. Jesus was taken to heaven by a cloud and we are told he will return in the same way. At the Transfiguration, God spoke from a cloud and said:
This is my beloved son, with whom I am well pleased; listen to him.
As spring draws near, consider taking a stroll through your neighborhood and look up at the clouds. Let yourself be drawn into the wonders of heaven. Perhaps you'll see, with your own eyes, the image and likeness of God.