by
Sheila Liaugminas
on Mar 08, 2017 in
Featured
,
Government & Politics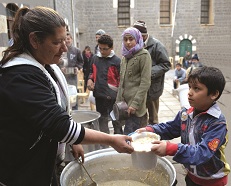 In my work as a journalist, I try to personalize what is otherwise an 'issue' and apply universal principles of human rights to policies that impact human lives. That's the case for many national and global news stories, breaking and current or ongoing.
When President Donald Trump issued the Executive Order on immigration and refugees on January 27th, it became personal for me and my extended family. For the past three years, my cousins living and working in Asia have worked personally and extensively to help three Iranian converts to Christianity navigate the complex, multi-layered, involved process of applying for visas to come to America and freedom from harassment in the Asian country they were in, and a worse fate in the country they were from, if deported back. They were weeks away from arriving in the US when the Executive Order came down, and alarmingly put the brakes on their case and fate, along with so many countless others.
For more than three years, they've gone through 'extreme vetting' by international entities and US governmental ones, involving many interviews and background checks, clearing many hurdles and finally anticipated receiving their travel date to the US, with an agency and sponsors in America preparing to receive them and help them resettle here. The three had become four, as the young 24 year old woman we'll call Nina was pregnant and due to deliver her daughter in early May. The clock was ticking for getting out of a danger zone for them all, especially with Nina's ability to travel soon diminishing.
After family on two other continents did all they could with international agencies and diplomatic assistance, I got engaged after that Executive Order was issued. Our elected Members of Congress are there for the people, and I turned to them. Providing two House of Representative members dossiers on the three refugees, and a thorough timeline of events that included case numbers for each international agency and US government department involved, the two Congressmen – one Democrat and one Republican, both Catholic, pro-life, advocates for religious freedom and humanitarian relief – said they would do what they could. Enough said.
Within days, the three received papers of clearance, with a travel date and itinerary, and instructions to carry out the process of departing for America, and where they would go on arrival, cared for by a family agency and our family sponsors. Because their flight would first touch down on American soil in my hometown of Chicago, I was able to be at the airport's international terminal to greet them as they came through the doors after clearing Customs and Immigration, and it was a profound experience, to welcome four refugees to America, the youngest not yet able to hold, to look into her eyes and say 'welcome', though she's the one who will be born a US citizen.
They came so close to not making it here, they were on the edge of despair, starting to think of what other options they may still have on a closing window of opportunity, maybe needing to go elsewhere if that were even possible, when the Executive Order restraining order was upheld in the Ninth Circuit Court, and everything went back to the drawing board.
So many people in so many families across the globe have similar stories of those days, with different US Representatives intervening on their behalf for good reason. Two other Congressmen talked with me on radio about our need to help foreign nationals who served US forces as translators come to America and bring their families, as a matter of duty and honor and service.
A new Executive Order is imminent, and may have been issued by the time readers see this. It needs to be considerably better than the one on January 27th. As my esteemed friend and radio guest Robert P. George stated in this First Things article on this policy process:
There is an enormous amount of confusion about the EO. President Trump bears much responsibility for the confusion, and his critics bear some of it. In my opinion, the EO was not necessary and therefore should not have been issued…A significant part of the reason is that we already have "extreme vetting" of refugees. In this important respect, we are quite unlike many European nations. Of course, most Americans don't know this. So they fear that what has happened in some places in Europe could happen here. I myself only learned about the stringency of our refugee vetting procedures as a result of extensive briefing when I was chairing the U.S. Commission on International Religious Freedom (USCIRF). There are many things in our government that are "broken," but our refugee vetting system isn't one of them.
In the case of the three refugees I welcomed to America, I can vouch for that. Their process was long and thorough, their paperwork and case files extensive. When they came through those doors an agent of the International Organization for Migration accompanied them until we saw each other and I rushed to greet them. He let us have the several hours of their layover together, to talk, have some refreshment in an airport cafe, quiet time in the terminal lounge, and their first hours of their new life in a 'soft landing' as my family abroad put it, the one who started helping them on this long journey. His wife was at their final destination to welcome them there and take them to the place arranged by the family services agency.
This is one case of three very vulnerable, courageous human beings, the fourth and most vulnerable of all was the child in Nina's womb. But our joy in embracing each other as now 'extended family', was one profound story that personalized the issue of 'refugees', and our vetting process already in place served everyone well.
Originally published at MercatorNet.com and reprinted with permission