by
Jake Frost
on Feb 12, 2013 in
Featured
,
Live in Christ
,
Parenting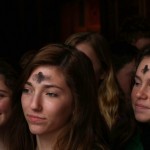 For Ash Wednesday last year, my wife and I took the kids to mass at Fulton Sheen's old seminary, the St. Paul Seminary in St. Paul, MN. Located on bluffs above the Mississippi River, with a fine view of the river and the Minneapolis sky line across the water, it has a neat old church with beautiful stone columns, frescoes and stained glass windows.
But before you can get into the church, you have to sign in with the Seminary receptionist. Negotiating our super-long double-stroller through the glass doors, I steered toward the welcome counter – and was startled when the receptionist looked up at us. A cross of black ashes was on her forehead. I knew it was Ash Wednesday, and obviously the receptionist had already been to mass, but it's still arresting to see someone with that cross of black ashes right in the middle of their forehead. "Quite out of the everyday," as Reverend Mosby says in The Parent Trap.
After mass, I took our kids on a round of errands:  donuts at a local bakery, the bank, and finally the library. At each stop, our presence was similarly arresting to those we encountered. And every year it surprises me. After the Ash Wednesday mass, when I'm out and about pursuing my normal routine, I tend to forget about the ashes on my own forehead. Until I notice people gazing intently at me. Even accounting for my dynamic personality and natural charisma, the extra attention always seems odd – until I remember that I too am marked. It's that cross of black ashes. It gets people's attention.
Which is fitting. It's the mark of a Christian, and it is arresting. It tells us about our future – first that we have a future:  we are meant for something more, something greater than this limited and fallen existence in this fallen world. Now we are poor banished children of Eve in this valley of tears, but humankind was not always so, it was not meant to be so, and we will not always be so.
That is why, Jeff Cavins said in his The Great Adventure Bible study, God sent an angel to guard the Tree of Life after Adam and Eve's sin and fall from grace. Not so much as punishment, but as protection – to ensure that Adam and Eve would not eat of the Tree of Life and become trapped forever in their corrupted state in a compromised world.
Adam and Eve were not meant to continue indefinitely in their fallen condition, and neither are we. God has something more in store for us than this present existence extended into perpetuity. So it is that Saint   Augustine asks:  "When you have learned that you are immortal – will that be enough for you?  It will be something great; but it is too little for me."  (quoted by Josef Pieper in Death and Immortality, taken from St. Augustine, Soliloquia II, 1.)
We are all called to a transcendence and transformation that begins now on this side of the veil, and is completed on the other side of "ashes to ashes, and dust to dust."
"Life includes dying, but life does not include death," wrote Father Richard John Neuhaus in As I Lay Dying. Father George Rutler, in his audio series Crisis in Culture, said "death [is] a deeper mystery than a mere tragedy."  Rather, "God is working his purpose out through death."  As Father Rutler explained, "we're called through death."
In the First Letter to the Corinthians, St. Paul tells us something of what we are "called through death" to:
Behold, I tell you a mystery. We shall not all fall asleep, but we will all be changed, in an instant, in the blink of an eye, at the last trumpet. For the trumpet will sound, the dead will be raised incorruptible, and we shall be changed. For that which is corruptible must clothe itself with incorruptibility, and that which is mortal must clothe itself with immortality.
1 Cor 15, 51-53.
One day, we shall be made "glorious" (1 Cor 15, 42), to "shine like the sun". Mt 13, 43; Eph 2, 10; Mt 18, 14.
And it is not just us, St. Paul says, but also "creation awaits with eager expectation the revelation of the children of God; for creation was made subject to futility, not of its own accord but because of the one who subjected it, in hope that creation itself would be set free from slavery to corruption and share in the glorious freedom of the children of God."  Rom 8, 18-21.
No wonder the cross of ashes gets so much attention. It's a startling sign of the unexpected possibilities awaiting us, possibilities greater than we could have hoped for ourselves. The mark of a Christian is that he has a future. And paradoxical as it may seem, that future lies through the crucifixion and death commemorated so physically by a cross of ashes pressed upon our flesh on Ash Wednesday.