by
Barb Lishko
on Feb 13, 2013 in
Featured
,
Live in Christ
,
On Books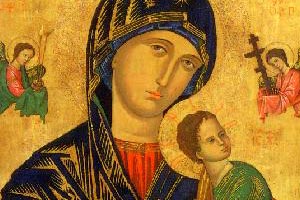 He approached from the far side of the table taking the seat next to mine and posed this question, "How did I know that Mary really interceded in my life and could the blessings I encountered really be possible?" Perhaps, I could give him some "concrete examples?"
I had just finished giving a little personal testimony about the generous graces that abounded having recently completing the 33 Days to Morning Glory Marian Consecration.  He opened by saying he was a cradle Catholic for nearly sixty-six years, and had never experienced anything remotely similar to what I had detailed. He seemed desperate to want to believe me, but guarded because his own personal experiences did not include circumstances such as mine.
I was not talking about the deaf hearing, the lame walking, or the dead rising, rather little answers to long prayed for petitions. I tried to help by giving other examples, but he persisted further in his quest for definitive proof. Perhaps it was just "wishful thinking on my part", or maybe I "manifested the feelings that created preferable conditions."
I gently questioned if he had ever felt a zing in his heart, for lack of a better word, in response to something proclaimed in Scripture, or in a homily that weighed heavily on his heart? Was there a song that ever spoke to a place deep inside where he sought answers? "No, not that he was ever aware of."
I pressed further, "You know that response to a prayer, that yearning in your heart that is suddenly fulfilled, something you recognize as an answer in the depth of your very being, a fit so perfect that only God could have reached that place?"
No, it seems he had not.
He was leery, but craving so badly to understand. How do you convince a blind man that light exists; he just can't see it? I knew with assurance beyond words or explanations, and yet I could not convey to him the reality of my knowing.
Have you ever had an experience of God or an answer to a prayer in something so every day and unexpected and it made you well up with tears instantaneously in response? You knew it, when you heard it? That zing that hit its mark inexplicably, but with deadly accuracy?
That's God's response to what our hearts are longing for. It is a little taste of heaven, a little experience of the infinite, a little reminder that He is listening and that our prayers, hurts, and pains do not fall on deaf ears or a hard heart.
33 Days to Morning Glory, by Fr. Michael Gaitley, is a beautifully simple and easy way to do Marian Consecration. I have prayed St Louis de Montfort's version several times and while very deep and insightful, it can be too time-consuming  for today's busy Catholic. I gave Fr Gaitley's version a try in Advent with a small group of women and we consecrated on 12/12/12.  What an unexpected gift it was.
Through the insight of four giants of Marian devotion: St Louis de Montfort, St Maximilian Kolbe, Bl. Mother Teresa and Bl. John Paul II, I was reminded of the need to entrust oneself over to Mary completely.
I have always felt I had a decent relationship with Mother Mary, but through this preparation and consecration I learned more to let go, to give it all to Mary and to let her apply any merits I may have earned where she deems best fit. It is an exercise in trust and surrender. Mary is the one of the best teachers and examples herself. Her fiat rang throughout history for the benefit of all humanity.
Now, I have a much deeper dependence on her, I go to her more readily, mom to mom and woman to woman…and she does not disappoint.
So for Lent we will enter into preparation once again with over fifty people and together we will journey with Mary as she leads us closer to her Son. I will invite this gentleman to join us, praying he entrusts himself and his family over to his Mother and ours, then watch and be amazed at what she can do with our hearts and lives when we say yes.
I invite you to do the same.