by
Mike Eisenbath
on Feb 24, 2015 in
Catechesis
,
Evangelization
,
Featured
,
Live in Christ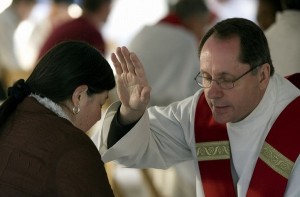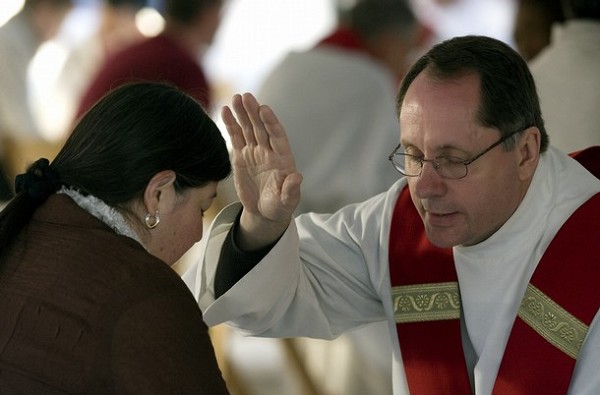 The silence truly had been golden. I hadn't heard or spoken many words for a couple of days — save for at the Liturgy of the Hours in the chapel. The immersion in the silence had been one of the most special, holiest gifts I could receive.
That had been one of the overriding reasons my two friends and I chose the monastery in rural Missouri for our retreat. The weekend at Assumption Abbey would provide us the opportunity to pray the Divine Office with the Trappist monks who lived there. It was a "personal-directed" retreat, which meant we could do whatever we wanted: pray, read, attend Mass, take in nature.
The silence was a powerful attraction, too. I definitely didn't expect to hear God communicate to me audibly — using the words of a Vietnamese monk.
In addition to the promised silence of the retreat, my friends and I also knew we would enjoy the sacrament of reconciliation. For me, no retreat is complete without that sacrament.
So on that August Saturday, I humbly entered the room — much larger than your average confessional, a room with wood-paneled walls that served as a library and dining room most of the time. The priest sat waiting for me at the table. Once he spoke, in his Vietnamese accent, his initial words caught my attention in a way I never had experienced.
"All the angels and saints in heaven are rejoicing," he said, "because one sinner is about to repent."
Suddenly, my attitude changed.
I had spent the previous half-hour or so in prayerful preparation for my confession. I went through an examination of conscience; I took an inventory of my sins. I have come to accept the last few years that it's foolish for me to expect perfection of myself — though occasionally I have to remind myself forcefully of that — and in that acceptance, the love of Jesus makes its greatest impact.
"I have sinned."
The surest sign of God working in your life comes when you sit down with a priest, say those words and genuinely mean them. Feeling anything less is merely sorrow for making foolish mistakes. Children typically perceive the sacrament at that basic level: coming up with a list of committed sins and then rattling off those "foolish mistakes."
In Psalm 51, David writes: "Against you alone have I sinned." That's subtly yet profoundly different from merely admitting mistakes that have broken a rule. One concept is that sins are wrongdoings against the Church, against the people of God. Then there is the concept of sin not as a wrongdoing but as a wrong being. It's a state of choosing separation from God, a determined independence on anything other than Him.
A true examination of conscience involves both concepts. That isn't a fun activity. Whether kneeling in a church or sitting on a comfy couch in a monastery, accepting the fact that you have purposely chosen to turn away from God at times is a painful admission. When you confess sin, you're admitting to a fault, acknowledging guilt.
Most of my reconciliation experiences the past 35 or so years have been powerful. The idea of recognizing my sinfulness and mentally creating the inventory of the times I had hurt God was intimidating, and the guilt often overwhelmed me emotionally. In receiving absolution, though, I found a formal freeing of those sins that stretched beyond mere forgiveness. I knew that God had completely forgotten everything.
In those moments, God and I had been reconciled, somewhat similar to a couple of friends settling a quarrel. Our lives were back in harmony. I can't describe how good that felt. The world actually looked different, brighter.
But when the Trappist priest welcomed me into the room that day, when he referenced Jesus' words in the 15th chapter of Luke's Gospel, he made me understand the true impact of the sacrament. I was about to receive absolution and have my slate wiped clean.
Indeed, heaven was far from silent. Angels and saints and God Himself were rejoicing — amazingly, all because of me.
This column was previously published in the St. Louis Review.