by
Kim Heilman
on Mar 30, 2018 in
Featured
,
Live in Christ
,
Music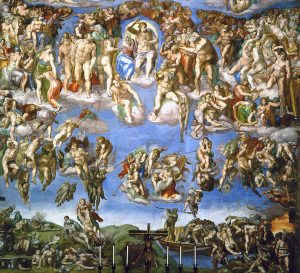 Today is Good Friday.
Now I know that I ought to be focused on the passion and death of Jesus Christ, and I am, but I am also a mother.
Therefore, I must plan ahead for my family accordingly. And this entails preparing any necessary music that my family will want to sing and listen to for the appropriate liturgical seasons.
So today, our family will listen to Allegri's Miserere Mei, Deus.  (Click HERE for it on YouTube.)
This piece has an interesting history, by the way.  It's title comes from Psalm 51 and means, "Have mercy on me, O God."
It was composed in the seventeenth century and was reserved exclusively for use in the Sistine Chapel during Lent.  In other words, nobody else was allowed to use it anywhere.
Well, the story goes that 14-year-old, smarty-pants Mozart was visiting the Vatican during Lent and heard this song performed. He simply went home, copied it out from memory, and that was that.
And now for Easter.
I know that you are all familiar with Bing Crosby's "White Christmas." But maybe you're not familiar with the Easter version?
My children began singing this a few days ago, so I thought I'd send it along, so that you might have a new song to sing Easter Sunday. This song is especially appropriate for those of you living in colder climates, like mine, where it snows forever and ever. Amen.
White Easter by Kim Heilman & Kids
I'm dreaming of a white Easter
just like the ones in North Dakota.
Where the Easter Bunny skis and children listen
to hear Alleluias at the Mass.
I'm dreaming of a white Easter
with every Easter basket I fill.
"May your days be merry and bright
And may all your Easters be white!"