by
Kim Heilman
on Aug 10, 2018 in
Featured
,
Live in Christ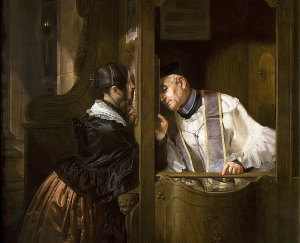 I had one of those terrible moments the other night. You know, the ones where you crush the spirit of your child and know it. It's awful.
I had just sat down with my husband to pray Night Prayer after a long, harrowing day. I was exhausted from the previous night's insomnia, stressed about our house not selling, and anxious about the up-coming school year. All I wanted to do was pray (i.e. whine about my problems to Jesus) without interruptions from my children.
Alas, this was not meant to be. We hadn't even made it through the opening prayer and up bounces one boy yelling, "Mom, he wrecked my lego set!" And then 30 seconds later, the 5-year-old runs up crying, "Mom, she pushed me right here.  It really hurts. I don't understand why she has to do that. I was just trying to brush her hair…"
Now, I made it through these interruptions without losing it, but barely. Then up walks my eldest and asks with a merry twinkle in her eye, "Mom and Dad? Will you come downstairs? We have a surprise for you!" I turned toward her, looked her straight in the eye, and firmly said, "No." She was immediately taken aback. She slowly turned around, her shoulders slumped, and I could hear a sigh of true disappointment. I had really hurt her. She was so excited to show us something, and I had resolutely pushed her aside.
I had a choice in that moment. I could persevere in my obstinate insistence on my will to avoid the children, or I could humble myself before Jesus, admit my wrong behavior, and agree to go see the "surprise." I could feel my husband silently pleading with me with his eyes, and so I called after her, "Wait! We'll come down after prayer to see your surprise."
It was the right choice, even though I had to sacrifice my ideal of a quiet night. The children had made up a little play for us, and it was beautiful. They had made a special spot for us to sit and commenced singing and dancing in costume. And I could have missed it all! I wouldn't trade those fifteen minutes for anything.
And now, there's one thing left for me to do. Go to Confession. We all need to go regularly, and so this is my friendly reminder to all of you too:
Go to Confession!