by
Patti Maguire Armstrong
on Dec 23, 2014 in
Featured
,
Live in Christ
,
On Books
,
On TV and Movies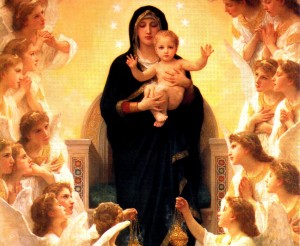 Twelve years ago, a brief article in the Marian Helper magazine caught my attention. "My mother never gave up on me," I read. "Even though I dropped out of high school, she never gave up on me, and now I'm becoming a priest."
That simple little story spoke volumes. I was on the lookout for inspirational accounts to include in the Amazing Grace for the Catholic Heart book that I was co-authoring. There had to be some drama if he dropped out of high school and later became a priest, I reasoned.
I obtained the writer's phone number from his congregation, the Marian Fathers of the Immaculate Conception of the Most Blessed Virgin Mary and called him. Several hours after our conversation began, I had heard the most amazing conversion story of my life: sex, drugs and rock and roll–and so much more. After all, not every delinquent gets kicked out of the country of Japan, and that was only after the police were able to track him down.
Fr. Donald Calloway, MIC was one bad dude–a heathen, a hell-raiser, and a heartbreak to his parents.  And then came Mary.  She changed everything.
It Began with Mary
In a recent interview, Fr. Calloway talked about his latest book Mary of Nazareth: The Life of Our Lady in Pictures and explained why the Blessed Mother is so central to his priesthood. "My conversion happened through a mystical experience I had involving Mary and the devil," Fr. Calloway explained.
He was reading a book about Marian apparitions that he had found on his parents' bookshelf one night. "I encountered an evil presence and I was terrified," he said. "I didn't know what to do, so I cried out to Mary. I felt her presence, and she vanquished the devil because Jesus lives in her."
Fr. Calloway turned to God and desired to change his errant ways. He wanted to know Jesus but was not sure where to find him. "I had heard about Jesus but had misconceptions about him," Fr. Calloway said. "People were creating their own Jesus but I wanted the real one.  I wondered though, who is he and where is he?"
Fr. Calloway reasoned that no one knew Jesus better than his own mother. "Show me your Jesus," he petitioned the Blessed Mother. "She led me to the place where I could audibly hear authentic teachings on Jesus Christ. She led me to the Catholic Church where I learned about the real Jesus."
The Story Continues with Mary
Since that time, he chronicled his own story in No Turning Back and has a total of nine books centered on the Blessed Mother and Divine Mercy. Fr. Calloway is a leading expert on the Blessed Mother and earned a pontifical Licentiate degree (STL) in Mariology at the International Marian Research Institute in Dayton, Ohio.
His most recent book Mary of Nazareth: The Life of Our Lady in Pictures came about at the request of the publisher, Ignatius Press. Ignatius obtained the North American copyright for the film, Mary of Nazareth that been released in Europe. "Ignatius edited out some confusing theological things about Mary Magdalene and immodest parts in the original film and then asked me to review their version of it," Fr. Calloway said. "I thought it was a masterpiece. I was so in love with it that I promoted it everywhere I went."
The movie, which had been in theaters and is now on DVD, looks at the life of Christ through the eyes of his mother Mary.  Ignatius Press asked Fr. Calloway to put together a coffee table companion book filled with beautiful images from the film and inspirational quotes about Mary.
"The film and book bring out the importance of Mary," he said.  "I love the quote from St. Catherine of Sienna, 'Mary is the bait God uses to capture the heart of men.' When God revealed himself to me, he put in front of me a beautiful woman, his mother." Fr. Calloway pointed out that in our modern age, pornography has corrupted beauty, but said that the Blessed Mother is bringing many men back through a growing number of men's groups centered on the rosary and the many Church approved Marian apparitions of our time.
"Mary is a huge aspect of my priesthood," he said. "I give myself to her every morning and ask her to help me to seek the glory of God throughout the day." He added that he prays the rosary daily, sends up prayers throughout the day and start major tasks with the Hail Mary."
Drawing in Souls
Fr. Calloway said he doesn't just wait for a Marian feast day to preach on her at Mass because Mary has the power to draw in souls.  He has also been leading pilgrimages to the Holy Land and Church approved Marian shrines in Europe. To learn about upcoming trips go to www.fathercalloway.com and click on "Pilgrimages."
"I'm doing everything I can to bring people to Jesus," Fr. Calloway said, "but if I get people to Our Lady through these pilgrimages, I find that she is able to do it so easily.
"When I arrive at a pilgrim site, I just pray: 'Blessed Mother, I have this bus load of people with me; do what you do.'" Fr. Calloway said he sees people begin praying the rosary and troubled families and marriages often turn completely around. "It's phenomenal what Mary can do!"