by
Ellen Gable Hrkach
on Jun 18, 2011 in
Featured
,
On Books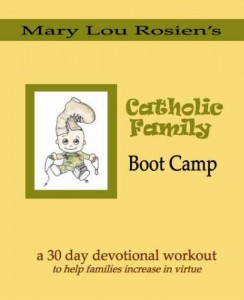 Are you looking for a book which will help your family increase in virtue?  Catholic Family Bootcamp is an ideal resource for assisting your family not only in reinforcing the spiritual virtues, but also in strengthening emotional bonds with your closest family members. 
"I have only one goal in providing you with this devotional book: to help your families increase in virtue," says author Mary Lou Rosien at the beginning of this terrific new book, Catholic Family Bootcamp, a 30-day devotional workout for families. The boot camp, in this case, is a training camp in the virtues: hope, love, justice, temperance, fortitude, prudence, faith.
The author shares with readers that her son is in the military and that when he went to boot camp, he came back physically and mentally stronger and prepared to fight the enemy.
So too are American families "fighting an enemy. It is a strong, fierce enemy that attacks us through the media, in our schools on the playgrounds, and even sometimes in areas of worship. It seeks to destroy families."
 This wonderful book is filled with Scripture, Catechism and saint's quotes, true stories, activities and refreshingly honest admissions from the author that even as adults, parents have areas which need improvement.
The best thing about this book is that all the work has been done for you…it's easy to follow and very user-friendly.
Some of my favorite quotes from the book are: "Observation is the biggest part of learning," "When you love someone you become an expert in them," and, "When someone acts unlovable, that is when they need love the most."
I loved this book and I highly recommend this wonderful, easy-to-follow resource to everyone who wishes to increase in virtue and grow in holiness.
Copyright 2011 Ellen Gable Hrkach
[Editor's note: Mary Lou Rosien has supplied the following excerpt from Catholic Family Bootcamp:
Day 2: Virtue of Hope
Getting onto the Same Page
Today's Task: Plan a family retreat day.
"By wisdom a house is built, and by understanding it is established; And by knowledge the rooms are filled with
precious and pleasant riches." Proverbs 24:3-4
At one particular time in our marriage, we felt that our family life was not on track.  Our solution was to create a family team building retreat…
Even the most difficult or most enjoyable areas of our lives can be used for team building.  A big part of family cohesiveness is the ability to play together. The overall goal is not complicated; create a happy, healthy environment for families to grow. Hidden opportunities are everywhere; it is all in your point of view.  
PRAYER
Lord, you designed our family, you knew the children we needed and the parents they needed.  Remind us to enjoy our "team time."