by
Terry McDermott
on Nov 03, 2012 in
Contraception & Abortion
,
Featured
,
Health & Fitness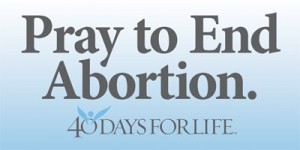 40 Days for Life ends on November 4, 2012.
Since the first 40 Days for Life 4 years ago in my city, my family and I have participated in the prayer vigil.  We haven't been as dedicated as the daily prayer warriors but we have committed to praying at the vigil site once or twice per 40 Days.  We also take part in the annual Life Chain Vigil and some of our older kids have traveled to Ottawa for the annual March for Life in May.  We're hoping to take part as a family next year at March For Life, a plan we're putting in Mother Mary's capable hands.
I'm always been encouraged by the dedicated souls who participate in this witness of love for the unborn child and the pro-life cause.  I've had the honor and privilege of witnessing in silent prayer with folks who will stand at the site for hours regardless of fickle Canadian weather, getting drenched in downpours or forming films of ice over eyebrows, eyelashes and nostrils in harsh Canadian winters.  Troopers, every single one of them.
Most prayers are for the unborn children and their moms.  However, my prayers go to the abortuary staff, the people whose job it is to daily murder little children.  Everyone from the receptionist who books the appointment and welcomes the clients, the nurses who prep and assist, the doctors who perform the procedure. How do they go to work each day?  How can their job not bother them?  What do they say to convince themselves that they are performing valuable work?  Why?
I remember an incident from nursing school that left me disappointed.  Biology classes for student nurses are very in-depth.  We were studying fetal development in first-year biology and the professor was very thorough.  She even said that this was her favorite section to teach.  Imagine my dismay when, at the end of weeks of learning about fetal development, there in that packed first-year lecture hall, she gave us her pro-abortion opinion.  How could she teach the unit so beautifully and still be anti-life?
Over 25 years later, I took an ethics course for RNs.  When I broached the disturbing truth that Canadian nurses are denied conscience objection rights, my prof told me in front of the class and in no uncertain terms to "leave your religion at home!"  She went on to point out that nurses who "demonstrate" against abortions and "picket" outside  abortion clinics may be subject to disciplinary action.  So much for freedom of speech.
Our Standards of Practice include a respect for life clause.  Life, in this case, begins at birth.  Before that, the baby is not recognized as a distinct person.  Yet, if the pre-born baby needed life-saving surgery, the best surgeons would be assembled to perform intricate procedures.  Doesn't anyone see the irony and the hypocrisy in that?  A wanted pre-born baby is saved; an unwanted pre-born baby is injected with fatal drugs, sucked out or cut up and then incinerated.  Where's the sense?  Why?
In Canada, we have no abortion laws; therefore, a pre-born baby can be aborted any time before he/she is born.  Anytime.
I don't know how people endowed with the God-given ability to save lives can turn such a precious, privileged gift into a means of destruction.  Is a paycheck worth the dismembered little body treated like garbage?  Can they be truly happy doing this for a living?  How do they live with themselves?
Why?
God forgive me, but I've always felt that at pro-life vigils, there are enough people praying for the babies and their moms. I think more prayers need to be offered up for the medical professionals and office staff who actually provide abortions and keep abortuaries open.
Please, as 40 Days for Life comes to a close on November 4, don't forget to say some prayers for my colleagues and their partners in this atrocity.
National Association of Pro-Life Nurses (USA)