by
Terry McDermott
on Oct 07, 2015 in
Featured
,
Live in Christ
,
Parenting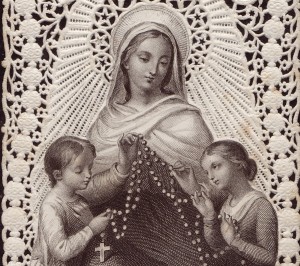 When I was growing up, my immature self believed that the family rosary was something that had to be endured. Through no fault of my parents, the nightly ritual was anything but idyllic.
My siblings and I were called into our parents' bedroom where we knelt facing the crucifix.  My older brother and I would sneak jabs and pokes at each other. My mother would then scold and separate us. I would often rush through the responses hoping that would speed things up, but of course that never worked.
My parents would add the Litany of the Saints and other intercessory prayers that made prayer time feel like an eternity to a young child. As I got older, I would make the excuse that I had too much homework or had to study for a test and so I couldn't take time out to pray.
Before we had children, my husband and I would occasionally pray the rosary together. It wasn't part of our routine, but instead was an afterthought if we were not too tired. We didn't pray together very often.
When our oldest children got to the age where they could repeat a Hail Mary, we attempted to start a very modified family rosary, but the lovely, serene vision I pictured in my mind was different from the reality around me.
The kids were either too tired or too distracted. My husband and I were always tired. Some evenings, prayer would dissolve into frustrated scolding and crying. Other evenings we almost reached that blissful state that artists capture on canvas.
Up until nine years ago, our family rosary was sporadic, but then something changed. I'm not sure what happened and I can't pinpoint the exact time when family prayer became a priority, but by God's grace, my husband and I realized that we had to make a better effort to pray in our home.
The challenge at the time was tailoring the rosary prayers to fit all our children; everyone from a toddler, a preschooler, young children as well as junior and high school students.
We are less strict than my parents were and the atmosphere is more relaxed than when I was growing up. We sit in the living room instead of kneeling and keep our prayers to a reasonable length of time. In the beginning we started with one decade and a few add-ons such as the Guardian Angel prayer and the Prayer to St. Michael the Archangel. Over time, we added more decades and included a prayer to St. Joseph and to the Holy Spirit.
At one time, my husband read excerpts from the book, Catholicism for Dummies (Fr. John Trigilio and Fr. Kenneth Brighenti, Wiley Publishing Inc.).  He's also read to us about the lives of different saints.
Our prayer time has evolved to three decades of the rosary alternating between the first, second and third mysteries one week and the third, fourth and fifth mysteries the next.  We include the Angelus along with other prayers incorporated over the years.
During special times in the liturgical calendar, such as in June, which is the month devoted to the Sacred Heart of Jesus, we pray the designated Litany. We all have our favorite saints whom we invoke during our personalized litany and every once in a while someone will throw in an obscure saint just to impress the rest of us.
Why only three decades? There are many beautiful prayers and litanies in our Catholic faith and we want our children to pray them, too. On the other hand, we don't want any of the children complaining that prayers take too long. However, there are times when we pray the whole rosary and not include anything else.
Our prayer time is not perfect. Some evenings we forgo our gathering and tell the kids to pray on their own. Older children with part-time jobs or evening classes, and young adults with full-time jobs are not always home. Sometimes there's grouchiness, distraction, laughing, joking. There's the excuse of too much homework, rushing to meet friends, or not feeling well.
We are a large family and our prayer life, like our family life, is authentically, blessedly, imperfectly human. This too is poverty since without God's grace we wouldn't even be able to attempt our family rosary.
In the book, Grace in Every Season, (Servant Publications, 1992) Servant of God Catherine Doherty writes a reflection for every day of the year. In her entry for December 30, Catherine writes a lovely story of Our Lady visiting her children.
Mary carries a basket as she goes from home to home. In some homes, she leaves very sad with nothing added to her basket. In other places, especially the homes with lively families, she stays for a long time and when she leaves, her basket is bulging. At the end of the day, she returns to her Son and shows Him the contents of her basket – hearts. Beating, happy, Christ-centered hearts. The hearts of domestic churches. These are the hearts of families that pray together.
When our Blessed Mother comes to my home, I pray that she finds a reason to stay for a very long time. I hope her basket is so heavy and overflowing that she has to drag it. When she shows the contents of her basket to Jesus, I pray they both laugh with joy because my family's hearts beat in unison with the Sacred Heart of Jesus and the Immaculate Heart of Mary.
The perfect rosary, like the perfect family, doesn't exist. Our Lord and our Blessed Mother delight in families who, in love and faith, persevere in gathering together to pray the beautiful prayers. What could be more perfect than that?
This article originally appeared on CatholicInsight.com and is used with permission.