by
Mary Pearson
on Sep 05, 2013 in
Dating & Singles
,
Featured
,
On Books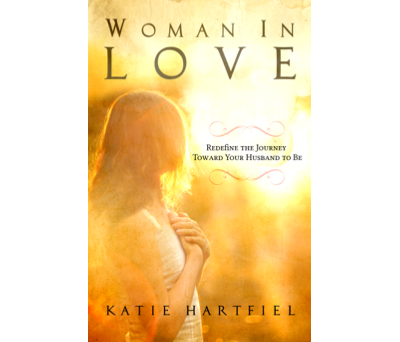 I'm sort of a sucker for love stories.
But then again—aren't we all?  Love is the most basic human need.  The music we listen to, the TV shows we watch… everything about the culture we live in testifies to the fact that we are starving for real love that satisfies.  Because of this, I believe that great love stories—REAL Love stories—deserve to be told and re-told.  The story of Mark and Katie Hartfiel, which I got to read this past week in Katie's book, Woman In Love, is one of those stories.
As a highschooler in Colorado, Katie was convicted one week to begin praying in earnest for her future spouse.  She began to keep a notebook in which she would write letters to her "Husband-to-Be" (or simply, "HTB"), assuring him of her love and prayers for him.  Years later, she would discover that the very same week she began her journal and her prayers for her HTB, a young man in Houston, Texas was inexplicably brought to his knees one night in an outpouring of grace that began his conversion to a life in Christ.
Woman In Love tells the story of Mark and Katie's journey towards true Love, while encouraging young women everywhere to follow in Katie's footsteps and "get in the trenches" for their Husband-To-Be.  What I especially enjoyed about the book was that it was both a love story as well as a practical guide to living a life of purity.  With each chapter you get a little bit more of Mark and Katie's love story, but the story is infused with practical advice for young women to live out our universal call to Love.
Every woman can and should be a "Woman In Love"—in love with Jesus and in love with her future spouse (some will even learn that the two are actually one in the same!).
If you are a young woman or if you know a young woman, I encourage you to pick up this book.  Here's just a little excerpt from the first chapter:
"…Yes, your vocation has a name.  This name was spoken when the Lord breathed you into being within your mother's womb.  Your Creator set out a perfect plan for your life ending with a triumphant 'happily ever after' as you fall back into the Father's arms at your death…

Does this mean that there is only one person for you?  Maybe…then again maybe not.  What it does mean is that the Lord knows everything.  He stands outside of time and is intimately aware of every breath you will take.  He knows the decisions you will make.  He knows the man you will marry, and He knows where your Husband-To-Be is at this very moment.  He would love to shower grace upon him in response to your prayers."
You can read more about Katie, and order Woman In Love, by visiting www.womaninlove.org