by
Anna Williams
on Aug 14, 2012 in
Featured
,
Government & Politics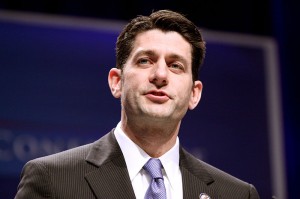 As you've likely heard by now, Republican presidential nominee Mitt Romney announced this weekend that Rep. Paul Ryan of Wisconsin would be his running mate. Ryan, a practicing Catholic, is best known for his work as chairman of the House Budget Committee; his proposals have made him a favorite of conservatives and a despised enemy of liberals.
Before we evaluate Ryan's record, though, you should study the USCCB's voting guide, "Forming Consciences for Faithful Citizenship." I've recommended that document before, and you can view the whole thing here. It should help you evaluate both political parties with appropriate skepticism.
And now, on to Ryan. Here's where the legislator stands on the major issues (in alphabetical order).
Abortion – His congressional voting record is 100% pro-life, according to the National Right to Life Committee. Pro-life groups are excited that Romney chose Ryan as a running mate, given that Romney's record on abortion has been less consistent. President Obama is pro-abortion and has never supported any restriction on the practice. Granted, a president cannot outlaw abortion by executive fiat, but there are measures he can take to discourage it.
Budget/safety net/taxes – In a word, it's complicated. Ryan is most famous for his controversial budget proposal, which he calls the Path to Prosperity. The plan would entail drastic cuts in nearly all areas of government spending (including safety-net programs), which thrills conservatives and terrifies liberals. Ryan argues that his plan is in line with Catholic social teaching; the bishops and other Catholics beg to differ. This issue deserves a wider treatment beyond the scope of this blog post; for now, here's another critique of Ryan's plans and another defense.
Presumably because of the Ryan plan's unpopularity, Romney has distanced himself from it, claiming that "as president he will be putting together his own plan for cutting the deficit and putting the budget on a path to balance." But he has also promised (implausibly) to cut taxes, which I think is the height of imprudence given our current deficit and unfunded liabilities. Ryan generally opposes raising taxes, though in the past he has been open (unlike most conservatives) to a value-added tax. So we don't know for sure exactly how a Romney/Ryan administration would handle the budget and try to close the deficit, but we can safely say that they would favor spending cuts over tax increases. Obama, of course, is willing to see taxes rise in order to protect safety-net programs, and he emphasizes his desire for the rich to contribute more.
Foreign policy/wars – Given that he has devoted his congressional career to the budget, Ryan isn't really known for his foreign policy views. He seems to be a normal Republican in this sphere, which means he (and Romney) would probably be similar to Obama — and that's not a good thing, given the latter's unconstitutional and immoral record on the use of drone strikes.
Health care – A major component of Ryan's budget plan is its healthcare overhaul, which would restructure Medicare pretty dramatically (arguably, that's necessary). Oddly enough, some have argued that Ryan's Medicare plan resembles Obama's health reform. Romney has pledged to repeal said reform without elaborating on how he'd replace it. Still, Ryan's evolution on health care (from 2010 to his more recent bipartisan proposal) implies that he's willing to be flexible. Obama's health reform prioritizes the expansion of coverage, which is a longtime goal of the USCCB, yet remains flawed (on religious liberty, abortion, and various health care policy issues).
Immigration – Ryan opposes amnesty for illegal immigrants, a position that puts him at odds with the USCCB. Obama recently decided to stop the deportation of young illegal immigrants, but his administration has also deported record numbers of illegal immigrants; comprehensive immigration reform was apparently not a top priority during his first term.
Judges – Appointing federal judges — especially to the Supreme Court — is one major way that presidents shape the nation's political future for years beyond their time in office. A Romney/Ryan administration would appoint more pro-life judges than the Obama/Biden administration would, and pro-life judges are crucial to the success of efforts to restrict abortion and eventually overturn Roe v. Wade.
Marriage – Unlike Obama, who supports gay marriage, Ryan has voted multiple times to protect traditional marriage.
Religious liberty – Ryan co-sponsored the Respect for Rights of Conscience Act, which "would amend the President's health care law to permit a health plan to decline coverage of specific items and services that infringe upon one's religious beliefs" (according to his website). Essentially it would widen the exemption to the Obama administration's contraceptive mandate (more here from the USCCB). That bill has not become law, but it's safe to say that a Romney/Ryan administration would be far more accommodating of the Church's religious liberty concerns than the Obama administration has been.
Bottom line: As always, neither candidate for president is perfect — and in fact, I'd say our two major choices are gravely flawed. Whichever way the election turns out, your lobbying (contacting your congressional representatives, signing petitions, writing op-eds and letters to the editor, etc., to highlight issues of importance) could be as important as casting a ballot. Feel free to argue with gusto about everything I've said in the comments section, but please try to write under the charitable assumption that I and your political opponents are neither evil nor stupid.
P.S. The title of this post is a reference to Ayn Rand, an author Paul Ryan has famously and unfortunately said he admires. For another perspective, Stephen Kokx argues at CatholicVote that it's not fair to assume that Ryan would emulate her in the public policy arena.
—–
This article originally appeared at Ignitum Today.