by
Amanda Magdalene Evinger
on Mar 04, 2012 in
Featured
,
Government & Politics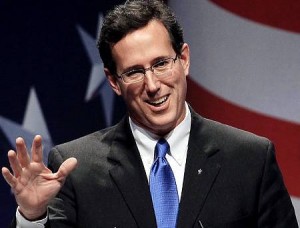 If we want a new president, it isn't going to happen without some blood, sweat and tears. And divine grace—plenty of divine grace.
So, this being said, just where do you and I come in?
It's going to have to be our blood, sweat and tears. We can't lay this one on somebody else. Not this time. After storming Heaven with prayers, I continue to feel strongly about voting for former Senator Rick Santorum, and bringing everyone along with me that I can. Arguably, Senator Rick Santorum is the most devout Catholic who has ever come this close to being President of the United States. According to a political analyst who spoke on Raymond Arroyo recently, Rick is 100 percent Catholic in his views on just about everything. He also has an impressive pro-life voting and action record, a thoroughly conservative outlook on social issues, an economic plan rated as one of the top by the Wall Street Journal, immense wisdom on foreign policy, and a noble character. Yes, a noble character– something that should be essential for candidates considering to lead a nation.  
Recently, my husband and I went to see Senator Rick Santorum in Tioga, North Dakota. There he was: Rick. Plain ol' Rick. However, he carried an ineffable presence with him, a presence of peace, security and wisdom. He didn't talk or act like a politician. He talked like an American, a faithful Christian who understands the knuckle-wrenching struggles of life, and knows what it's like to work hard and raise seven children in today's world. He spoke about how as president, he would preserve our freedoms and rights as Americans, downplaying the governmental micro-management of our lives, farms and industries characteristic of the Obama administration. He said that on day one, he'd allow the Key Stone Pipeline, helping to revive the manufacturing sector of our society which has been greatly hindered under the current administration. He also said he'd start removing the oppressive powerhouse of control running under the guise of "Obamacare." As Margarat Thatcher once made clear, when the government of a nation begins to control the health care of its citizens, the government begins to own the people in an irreversible way.    
 Did we believe him? Yes. He's sincere, and he has the record to prove it.
My hunch? I'm just a young Mom on the prairie, but perhaps I've got an opinion that's worth something. Perhaps I can see why Rush Limbaugh said, "I hope Rick Santorum makes it to the White House." My hunch is that Almighty God is behind Rick Santorum. I think He is giving America a last chance. He's giving us a chance to keep babies from getting aborted; to spare our Christian institutions; to revive the manufacturing sector of our nation, and much more. He's giving us a chance to be a Constitution-abiding nation "under God" once again, a chance to recover the "land of the free," the land that we love.
The fight for the very soul of America rages… are you in?
To help out, vote for Rick in your upcoming presidential caucus or primary, and bring as many along with you as you can. To volunteer or donate funds, visit www.ricksantorum.com.