by
Mike Eisenbath
on Oct 05, 2015 in
Evangelization
,
Featured
,
Live in Christ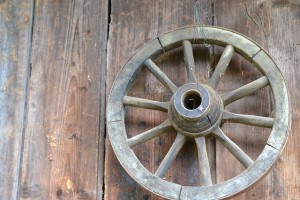 Every month, as part of our formation with the Secular Carmelites order in St. Louis, the formation director gives my group a reading assignment and asks that we each write a two or three page reflection. The September assignment was Part Four of the Catechism of the Catholic Church – a compendium of all my Church believes, compiled during the almost 2,000 years since Jesus established this Church.
My copy of the Catechism is a book of 688 pages. Part Four, entitled "Christian Prayer," accounts for 76 of those pages. Seventy-six pages – by my quick estimation about 24,320 words – about praying as a follower of Jesus Christ!
The first page of that section includes this quote from St. Therese of Lisieux:
"For me, prayer is a surge of the heart; it is a simple look turned toward heaven, it is a cry of recognition and of love, embracing both trial and joy."
"Prayer … is a simple look toward heaven."
My beautiful, beloved Church has provided more than 24,000 words to explain that "simple look." Goodness knows how many millions more words have been written and spoken by saints, learned men and women, and indeed common, everyday folks about that simple look toward heaven, that surge of the heart, that cry of love. When asked by his disciples to teach them how to pray, Jesus gave them everything they needed — everything we ever will need, really — in a matter of 55 words, at least in the English translation of "The Lord's Prayer."
Even though there is incredible value in the "Christian Prayer" section of the Catechism, I'm not sure 24,000 words are necessary to explain what Jesus was doing in those 55 words.
Simple, indeed. Human beings have an amazing ability to take something that should be easy, effortless and natural and embellish it with ornamentation, pretension and complication to the point that all simplicity disappears.
Communicating with God, our creator, should be innate, even intuitive. Believing in God should be painless and undemanding. Understanding Jesus Christ and following him should be elementary. Being loved by God should be child's play.
Living as a Christian should be simple.
That came to mind recently during my Lectio Divina prayer time with the Scriptures that we heard read at Mass on the Twenty-sixth Sunday in Ordinary Time. The suggested Responsorial Psalm was from Psalm 19, which includes these words:
The law of the LORD is perfect,

refreshing the soul;

the decree of the LORD is trustworthy,

giving wisdom to the simple.
Believing in the Lord subsequently leads to following His law and decrees, but that's undemanding because it refreshes the soul and inherently inspires trust. And it provides wisdom to the simple. Therefore, it follows that if I want to receive the gift of God's wisdom, I must be simple.
How about these "simple" thoughts from some of the other Mass readings of that day?
* In the story related in the Book of Numbers, we heard about God taking some of the Spirit that filled Moses and sharing with 70 elders, who then began prophesying. Two other elders, Eldad and Medad, weren't at the official gathering but still receive the Spirit and still began prophesying. When Joshua, Moses' top assistant, heard about them, he told Moses they should be stopped. "Would that all the people of the LORD were prophets!" Moses said. "Would that the LORD might bestow his spirit on them all!"
* In the story related in the Gospel of Mark, we heard the disciples telling Jesus about some people who, though they weren't His "followers," still were driving out demons and healing in the name of Jesus. In response, Jesus essentially told them to chill out and actually be glad. "For whoever is not against us is for us," the Lord said to them. "Anyone who gives you a cup of water to drink because you belong to Christ, amen, I say to you, will surely not lose his reward."
 * Jesus went on to say that they shouldn't have been concerned about people doing good things in His name, but instead should realize the gravity of anyone who led one of His followers astray. He said: "Whoever causes one of these little ones who believe in me to sin, it would be better for him if a great millstone were put around his neck and he were thrown into the sea."
My favorite advice about the need for "simplicity" in faith, and life in general, came during the reading of a portion of the Letter from St. James.
"Come now, you rich, weep and wail over your impending miseries" (James 5:1).

James – and Jesus, His Lord – didn't mean to say that rich people can't get to spend eternal life in heaven. In fact, on that subject Jesus said that nothing is impossible with God, so don't rule it out.
But it sure is going to be difficult for the "rich," those to whom much has been given, those who have accumulated much, because when someone has a lot of stuff, they naturally become attached to that stuff. It might be money or fame, it might be power or a big house or an important job or merely ambition and dreams to reach higher and obtain more.
Consider the difference between rich and poor from this key perspective: The poor folks in the world live simpler lives. Not easier lives, not less stressful lives, but they are simple.
And the simple receive wisdom from the law and decrees of the Lord.
Feel free to read Part Four of the Catechism, the seventy-plus pages on Christian prayer. It really is interesting and enlightening. And please read some of the millions of words others have written and spoken on the subject. They can be instructive and provide holy advice.
But if you really want to pray, give a look to heaven. And if you want to be a true follower of Jesus Christ, it's not that complicated.
In fact, it's simple.