by
Jake Frost
on Dec 20, 2012 in
Featured
,
Parenting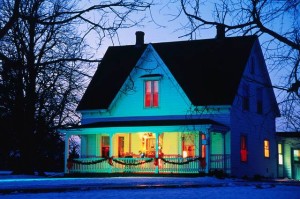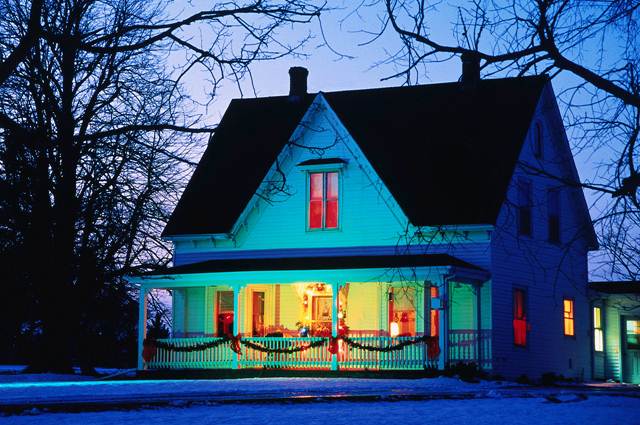 I was putting our younger daughter to sleep, and as we snuggled in the chair, I started singing:  "Chestnuts roasting on an open fire . . ." She picked up the tune and sang the next line:  ". . . Jack Frost sniffing at your nose . . ."
Christmas is full of surprises. Especially when kids are involved. Like with my brother and the buffalo cookies. One year when we were kids, one of my brothers used the annual cookie decorating party for more than a great adventure in licking frosting and consuming cookies (if they're broken, you have to eat them, you know—can't have broken cookies on the silver tray on Christmas Eve). Instead of just filling up on sugar and Christmas tunes, my brother actually got creative and turned all the Christmas Tree cut-out cookies into buffalos. And they looked pretty good when he was done. Turns out that if you lay a Christmas Tree cookie sideways, cover the thick bottom part of the tree in dark brown frosting for a shaggy mane, frost the rest in a light tan, then add little frosting eyes and horns, you end up with a pretty convincing buffalo. At Christmas Eve there were no broken cookies on the silver tray, but there was a whole herd of buffalo.
Then there was Grizzly Claws. We were making ornaments one year and another brother set out to construct a Santa Clause from red felt, googly-eyes, and cotton balls. Now, he was young, and he managed to put together some of the essential features of a traditional Santa Clause—hat, beard, and eye (only one)—but the effect of the all the pieces together was something gestalt:  the whole was more than the sum of its parts. And the whole was scary. With one wild googly-eye and a scraggly, lopsided beard of mangled cotton balls, and scars of glue and glitter across his cheeks and forehead, this Santa Clause looked like he spent more time wrestling alligators—or chainsaws—than filling stockings with candy canes. Us kids loved it, of course, and immediately dubbed the ornament "Grizzly Claws." It was given a prominent place of display on the Christmas Tree, an honor it still enjoys every year to this day. And you better watch out, you better not cry, you better not pout, I'm telling you why:  if you do, Grizzly Claws might just chew your arm off. So be good, for goodness sake.
One of the very best surprises growing up was the Blizzard of '78. I don't have the meteorological records in front of me, but as I remember it, swirling snow blotted out the sun for days on end and school was cancelled for weeks—right around Christmas and New Years, making for the longest Christmas break ever recorded in the annals of formal education (and this was back in the days before you had to make up snow days; life was good).
Our whole neighborhood was totally snowed in. Mom and Dad pulled us around on our sled right through the middle of the snow bound streets, meandering from street to snowy street, until the sun set and we'd watch the snow falling in the yellow light of the street lamps as we made our way home. J. R. R. Tolkien was right, "Not all who wander are lost." Some have just found a WinterWonderLand, and they are enjoying it.
After a few days, Dad and some other men from the neighborhood mounted an expedition to the grocery store. Dad wrapped a scarf over his face and slung a burlap bag over his shoulder. Mr. Castle from across the street went decked out in fullYukontrail breaking regalia:  snowshoes, parka, waders, long red scarf and a crazy hat with a fluffy ball dangling from its drooping peak. Before setting out the intrepid Klondike Crew checked with the old folks in the neighborhood to see what provisions were needed to carry them through the storm. Then, once all the orders were in, they ventured forth into the driving wind. It was all very adventurous and pioneer, like an episode from Little House on the Prairie, complete with the surprise gift from the snow encrusted Santa-proxy when Dad finally made it back to our door and produced a package of Boston Baked Beans candies for us kids. Just like Mr. Edwards delivering the Christmas parcel for the Ingalls' children. "It's too much Edwards, it's too much."
When there was finally a break in the snow, the men of the neighborhood sallied forth again, this time with shovels in hand. I suppose they probably made snow blowers even back in those days, but if they did, no one in our neck of the woods had one. The snow blowers around our parts were the husbands, huffing and puffing as they put their backs into the work. The big dig on our street actually started with our Dad. He decided to blaze a trail through the drifts for our car to get out onto a plowed road. So, when the snow finally stopped, out he went into the chilly bright stillness of an early winter morning to clear a path to civilization. He trudged right into the middle of the street, and started shoveling. It must have been a surprising sight when neighbors wiped the frost from their windows in the morning and peeked out, coffee cup in hand and sleep still in their eyes, to see one crazy man trying to shovel out a whole street by himself. They decided to give him a hand. First one, then another, and before you knew it all the Dads on the block were out shoveling. The Moms started bringing out coffee and cookies to share around with everyone, the kids came running out to join in the excitement and play amid the snow flying from the shovels (and maybe even help a bit), and we ended up with a huge winter block party. People talked and shoveled and enjoyed good cheer, and in the end the whole street was cleared, and all the steps and sidewalks at the houses where the little old ladies' lived, too.
And in the midst of this Season of the Unexpected we celebrate the coming of the King of Kings and Lord of Lords, the Lion of Judah—as a helpless little baby boy. Coming into the world with nothing, born in a stable, into a family poor and humble, at His birth He gave the world the greatest gift there ever was—Himself.
"For You are great and do wondrous deeds; and You alone are God." Ps 86, 10. An old piece of Christian wisdom is:  when it comes to God, expect the unexpected. Prepare for surprise. Cultivate your capacity for wonder. For "He does great things beyond our knowing; wonders past our searching out." Jb 37, 5. Saint Augustine said:  "If you understand, it is not God." C. S. Lewis wrote in The Lion the Witch and the Wardrobe, "'He's wild, you know. Not like a tame lion.'" And now is the time of the year to remember and celebrate one of God's deeds like no other:  the birth of Jesus Christ. As Scripture tells us, "thank the Lord for such kindness, such wondrous deeds for mere mortals." Ps 107, 31.