by
Elizabeth Tichvon
on Apr 04, 2014 in
Catechesis
,
Featured
,
Live in Christ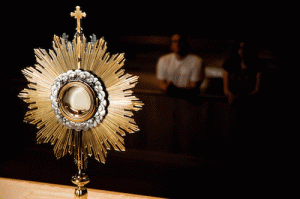 A reflection on today's Sacred Scripture:
"The Lord is close to the brokenhearted; and those who are crushed in spirit He saves" (Psalm 34:19).
There are a lot of hurting people in the world, but tonight I am not one of them. At this moment, alone here near the tabernacle, I glory in the Real Presence of the Lord and He hears me, giving me peace and joy of soul.
Here in the dark, it is so quiet. I can hear the candles flickering. Jesus hangs here silently and beautifully on the cross, but only as a reminder.  For at this moment He is in Heaven. At this moment, He is with me.
"The lowly will hear me and be glad" (Psalm 34:3).