by
Dawn Magdalene
on Jan 24, 2012 in
Featured
,
Government & Politics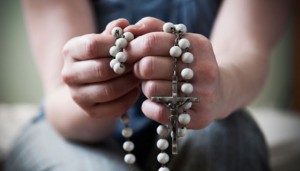 "People ask me, 'What will convert America and save the world?' My answer is prayer."–Blessed (Mother) Teresa of Calcutta
The battle is on… got your weapon?
It's no secret that our beloved country is entrenched in an intense struggle. It's a war between the culture of life and the culture of death; between economic stability and economic collapse; between authentic religious liberty and moral oppression; between cultural prosperity and cultural decadence.
So, this being realized, you may wonder what each of us can do to win this battle. Foremost, we can pray, and pray from the heart. With the 2012 Presidential Election right around the corner, there's no better time to blow the dust off of our rosaries and put them to use. All across the nation, brothers and sisters in Christ are organizing a powerful Prayer Crusade for the election of a good president, one who will govern with integrity, honor the Christian values upon which our country was founded, and uphold the dignity of every human life, from conception to natural death.
Those who would like to participate in this Crusade are asked to simply pray nine rosaries, offer a fast for the above intentions, and spread the word about the Crusade to everyone they can. Those who would prefer not to pray the rosaries can pray and fast in a special way for nine days instead.
With rosaries in hand, let's fight for our nation! There's plenty of territory to be reclaimed and endless opportunities to expand our rights to life, liberty and the pursuit of happiness. Let's be able to say to generations to come, "This land is God's land." Just as St. Pio of Pietrelcina said, "The Rosary is the weapon."
Let's pray in a particular way for Republican nominee Rick Santorum, a devout Catholic who arguably could bring this vision to fruition.
For more information, visit the Prayer Crusade for 2012 Presidential Election on Facebook, or email (Enable Javascript to see the email address).