by
Catholic Lane Administrator
on Nov 05, 2015 in
Saint of the Day - Ex Form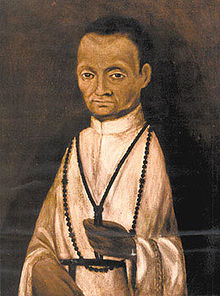 That the truth is stranger than fiction is verified in the life of this holy man who was born on December 9, 1579, and died on November 3, 1639.  He was the son of Don Juan de Porres, a Spanish adventurer and nobleman, and Ana Velasquez, a freed Negro woman of Panama.
Martin's father arranged for some sort of schooling and then had him apprenticed to a barber-surgeon from whom he learned the rudiments of medical practice.  This elementary study of the healing arts enabled him to set bones, dress wounds, give doses for the cure of fever and be the good Samaritan for years in Lima, Peru.
Wishing to dedicate himself entirely and freely to the service of others, he became a Tertiary of the Dominican order.  While never a professed religious, he lived as a Third Order member of their residence at Lima, and from it as headquarters went forth to a daily life of utter self-sacrifice for the needy.  His father, who in time became Governor of Panama never aided him but in fact, attempted to prevent his ambition to lead the religious life.
The stories of Martin's marvels of healing and the countless works of wonder that he did remind one of the early days of Christianity.  Incredible though they sound, they are attested to by reliable witnesses and account, in some way, for the constant devotion to him in South America and the more recent cult to him in North America.  All the works of mercy found him their ready minister.  Such practical acts of kindness as getting marriage dowries for young girls and establishing orphanages and shelter for bereaved children were part of his beneficent program.  Behind these self-effacing and charitable enterprises was a life of profound prayer, furthered by heroic penances.
Reflection.  "There is neither Jew nor Greek, neither bond nor free; you are all one in Christ Jesus" said St. Paul.  Therefore the union of the Christian soul with Christ Jesus blossoms into an active charity towards all, particularly those in the greatest need.