by
The Becket Fund
on Jan 31, 2012 in
Featured
,
Law & Justice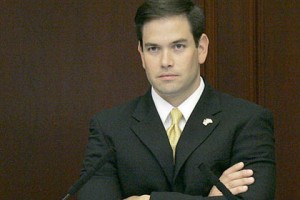 The Becket Fund for Religious Liberty applauds Senator Marco Rubio (R-FL) for introducing a bill protecting the conscience of millions of individuals against the Obama Administration's abortion-drug mandate.
Unlike other pending bills that address conscience issues, Senator Rubio's bill—The Religious Freedom Restoration Act of 2012—is narrowly focused and establishes a firm religious exemption in the insurance requirements imposed by the Affordable Care Act, rather than leaving it to the discretion of government bureaucrats. The bill ensures that no regulations under the health insurance reform law will force religious individuals to violate their religious beliefs by offering, providing, or purchasing insurance coverage for services that violate their beliefs, and forbids the government from imposing a penalty due to their religious conviction.
"I greatly appreciate the legal expertise of the Becket Fund for Religious Liberty," said Senator Rubio. "Their good work in the courts and ours in the halls of Congress are taking on the Obama Administration and tackling two sides of the same coin in order to preserve religious liberty for all Americans.  I'm proud to have The Becket Fund's support in this effort."
This bill responds to the Department of Health and Human Services mandate that requires most religious groups to pay for contraception, sterilization, and abortion-causing drugs in their health insurance plans. The Becket Fund represents two religious schools—Belmont Abbey College and Colorado Christian University—in separate federal lawsuits challenging the abortion-drug mandate as a violation of a federal civil rights statute and the 1st Amendment of the U.S. Constitution.
"Senator Rubio's bill answers the call from religious individuals and groups across the country who are tired of an imperious government imposing 'mandates' on the American people," said Hannah Smith, Senior Counsel at the Becket Fund. "Rubio's bill is a balanced approach that will prevent the government from penalizing those who are simply being true to their religious faith."