by
Stefano Gennarini, J.D.
on Aug 07, 2014 in
Contraception & Abortion
,
Featured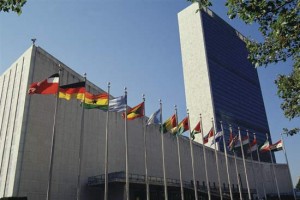 The U.N. Secretary General waded into dangerous territory last month asking U.N. personnel in post-conflict situations to lobby for changes in abortion laws.
Women should have a "choice of safe and legal abortion" according to a guidance note published by the Secretary General. The note on reparations for victims of rape in conflict situations says abortion is "needed" to prevent sexual violence in the future, among other less controversial policies. The paper's stated aim is to provide "policy and operation guidance for United Nations engagement" in post-conflict situations and was prepared by the U.N. Human Rights Office and UN Women.
While the guidance note falls short of calling abortion a right of reparation, or saying that countries have a legal obligation under humanitarian law to allow unborn children conceived in rape to be aborted, it will encourage abortion groups to use post-conflict situations to lobby for changes in abortion laws with the support of U.N. officials.
The document is brief and leaves many details unaddressed. The connection between making abortion legal and preventing sexual violence is not explained, for example. This is troubling in light of reports that abortion is used to hide sexual abuse and sex trafficking, even in the United States. Moreover, it neglects the risks of bringing medical or surgical abortions in post-conflict areas where infrastructure is absent, medical care is poor, and lack of access to basic water and sanitation would expose women to infections and other complications.
The notion of abortion as a right is controversial. It implies that one human being has a right to destroy the life of another. This is an inherent tension in the guidance note, which condemns forced abortion and lists children who are conceived and born as a result of rape among the victims affected by sexual violence.
The Secretary General did not reference any international treaties or U.N. resolutions in support of his position on abortion. Human rights law and humanitarian law are both silent on abortion, and cannot be fairly interpreted to include any abortion rights. The only support referenced in the guidance note is the non-binding opinion of U.N. experts of the CEDAW committee, whose credibility is compromised.
The guidance is low on the totem pole when it comes to U.N. authority and does not create norms. It was not produced as a result of a specific mandate, and was not requested by member states. But it will be influential on government and U.N. officials in post-conflict situations—when in the absence of stable social and political institutions reliance on U.N. guidance is at its highest.
It is only a consolation prize for abortion groups and comes on the heels of a three-year campaign to have abortion recognized as a right of reparation under humanitarian law that has been mostly unsuccessful.
The U.N. Security Council came close to saying abortion should be available to victims of rape in two resolutions on women, peace and security last year. The Secretary General was among those campaigning for abortion. Ultimately, the resolutions were unspecific and the controversy was avoided altogether this year. The United Kingdom, normally a strong promoter of abortion, rebuffed efforts to include abortion as part of the largest global initiative to address sexual violence in conflict.
U.N. member states have been invited to a presentation of the guide at the U.N. on Friday, August 1.