by
Stefano Gennarini, J.D.
on May 15, 2014 in
Contraception & Abortion
,
Featured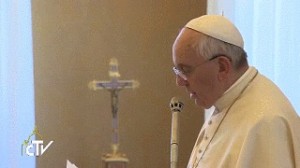 The highest-ranking U.N. human rights official, Navi Pillay, looked down and fidgeted as Pope Francis delivered an unambiguous pro-life message to Secretary General Ban Ki-moon and top U.N. officials.
Unborn children are "our brothers and sisters," Pope Francis told Pillay and her colleagues gathered in Rome for a coordination meeting. Pillay's office facilitates the work of the U.N. committees that recently told the Vatican to change Church teaching on abortion.
"Today, in concrete terms, an awareness of the dignity of each of our brothers and sisters whose life is sacred and inviolable from conception to natural death must lead us to share with complete freedom the goods which God's providence has placed in our hands," the Pope exhorted.
The message comes at a critical time, when the United Nations is discussing a new development framework to replace the Millennium Development Goals (MDG) in 2015 and contribute to the eradication of poverty, improvements in health, and economic development. The U.N. General Assembly is conducting consultations to garner consensus on a scheme known as the Sustainable Development Goals.
The pope applauded the U.N.'s efforts so far, but cautioned that many are still excluded from the benefits of social and economic progress, unborn children among them.
He denounced the injustice of the "culture of death" and the "throwaway culture" of our times. Abortion is part of that culture, according to the pontiff, alongside an "economy of exclusion." He urged U.N. officials to challenge these injustices with a "worldwide ethical mobilization."
Equitable progress is only achievable through a "solidarity accompanied by a generous and disinterested spirit of gratuitousness at every level," he told them.
Pope Francis also asked the officials to "provide appropriate protection for the family" as an "essential element in sustainable human and social development."
The Pope's intercession for unborn children and the family conjures John Paul II's interventions ahead of an ambitious U.N. conference on population and development in 1994 where efforts of the Clinton administration and U.N. officials to have abortion recognized as a human right were stymied by Francis' predecessor.
The negotiations for the post-2015 development agenda are the new battleground where a similar clash is unfolding.
Pope Francis' message is aimed at preventing the U.N. from endorsing abortion even indirectly under the pretext of providing maternal health or sexual and reproductive health.
Donor countries that support abortion and U.N. officials accountable to them include abortion as an indispensable component of maternal health and sexual and reproductive health. Groups that provide and promote abortion exploit ambiguities with regards to abortion in U.N. policies in order to obtain funds.
The Millennium Development Goals successfully channeled resources to tackle specific problems. But many difficulties and uncertainties remain in forming a new set of goals.
The agenda has ballooned to well over a dozen broadly defined goals, targets and indicators. There is no agreement on details so far.
Critics worry that the post-2015 development agenda will focus away from helping poor countries grapple with poverty and diseases to unattainable universal goals on a vast spectrum of environmental and social issues dear to wealthy countries.