by
LifeSiteNews.com
on Oct 30, 2013 in
Contraception & Abortion
,
Featured
,
Government & Politics
,
Law & Justice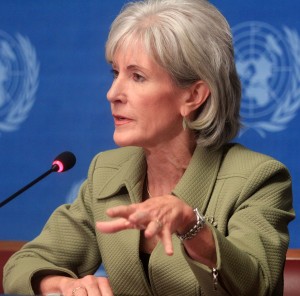 During testimony this morning before the House Energy & Commerce Committee, HHS Secretary Kathleen Sebelius said she doesn't know whether the administration can commit to ensuring that Americans seeking to purchase health insurance under the Patient Protection and Affordable Care Act's (ACA) exchanges can be told which plans do or do not cover abortion.
Rep. John Shimkus (R-IL) asked Sebelius if she could "commit to us that the federal exchanges that offer that is clearly identified, so people can understand if they're gonna buy a policy that has abortion coverage or not, because right now you cannot make that determination."
"I don't know," Sebelius answered. She continued, "I know exactly the issue you're talking about. I will check and make sure that is clearly identifiable."
Earlier this month, Rep. Chris Smith had introduced a bill that will ensure that companies will no longer be able to hide whether their plans cover abortion and will charge enrollees a $1 monthly abortion surcharge.
The ACA currently mandates that insurance companies that are part of the law's state exchanges not disclose whether they pay for elective abortions until enrollment.
Section 1303(b)(2) of the law specifically states that agents "shall provide information only with respect to the total amount of the combined payments" – and not about abortion coverage.
Those plans that cover abortion-on-demand will charge each policy holder a $1 abortion surcharge.
"Doubtlessly there are many Americans who would object to paying a surcharge into a fund to be used solely for the purpose of destroying innocent human lives," Congressman Smith said in a letter in introducing the bill.
Shimkus followed up by asking Sebelius to "provide for the Committee" which insurers "in the federal exchange" are not offering abortion coverage. Sebelius said, "I think we can do that, sir."
One of the most controversial aspects of the Affordable Care Act has been its coverage of abortion. President Obama signed an Executive Order in March 2010 that ostensibly prevented the Act from covering abortion except when consistent with the Hyde Amendment – in cases of rape, incest, and life of the mother. However, months later, in at least three states – New Mexico, Maryland, and Pennsylvania – the Administration tried to use funding under the Act to fund non-Hyde Amendment abortions. Pro-life activists responded, stopping the effort.
With the HHS mandate introduced in January 2012, mandating that employers provide insurance that includes coverage of contraception and some abortifacient drugs, the issue of abortion funding has led to dozens of lawsuits against the federal government, including one by the business Hobby Lobby and the Catholic organization Little Sisters of the Poor.
Representative Smith's (R-NJ) H.R. 3279, the Abortion Insurance Full Disclosure Act of 2013, has 108 co-sponsors.