by
Trent Beattie
on Jul 15, 2012 in
Featured
,
Sports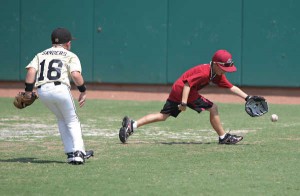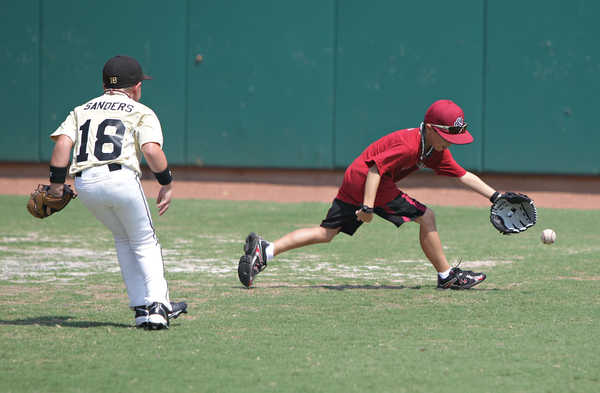 Mike Sweeney's Catholic Baseball Camp, to be held July 24-26 at Cathedral Catholic High School in San Diego, is not your average baseball camp. In addition to the customary fielding, hitting and base-running, this camp will include daily Mass, confession and praying the Rosary.
Participants will learn not only how to become great baseball players, but great human beings as well. Contrary to what some think, the two are not incompatible, the camp's originator and leader, Sweeney, explained.
"The reason I started the camp was to share the integration of two of my loves in life: baseball and the Catholic faith. Of course I value playing baseball, but, more importantly, I set a tremendous, unsurpassed value on Catholicism," Sweeney said.
The five-time All-Star was part of generically Christian baseball camps during his days with the Kansas City Royals from 1995 to 2007, but he wanted to put together a more complete presentation of the Gospel message.
"At the other camps, we played baseball all day and then, at the end of the day, we talked about Jesus. I loved being there, but felt like I was diluting the message to fit the Protestant mindset, because those who ran the camps were Protestant. It was like presenting half of what I should have."
Sweeney put more thought into the other things he should have presented during his later playing years with the Oakland Athletics, Seattle Mariners and Philadelphia Phillies. After officially retiring in March 2011 and taking care of other business last summer, he was finally able to bring everything together. The plan for a Catholic baseball camp was finalized at a Lenten retreat this year, and a website was launched shortly thereafter.
"At this camp we'll not only talk about Jesus, but actively encounter him all day, starting in the Mass, where he's present in a unique and unsurpassed way. We'll also have a priest hearing confessions, we'll study the Bible, pray the Rosary and associate specific Bible verses with baseball," the 38-year-old father of four explained.
"For example, in Hebrews 12:2, it says we should keep our eyes on Jesus. If we do that from morning until evening, then we're able to live the day correctly. By analogy, if we keep our focus on the baseball from the beginning of the game until the end, then we're able to play correctly. Even during a game, the focus is still Jesus; but from a physical-mechanical standpoint, the focus is the ball."
Training the Tongue
Another interesting aspect of the camp is how Sweeney has assigned each inning of the scrimmage games a unique theme. There's the "friendly first," in which everyone gets a chance to hit, regardless of how many outs there are. This is followed by the "silent second," in which everyone is supposed to remain quiet, thereby learning to tame his tongue in the spirit of James 1:26.
"Using our tongues for blessing and not cursing or other inappropriate utterances is essential to becoming a truly Christian person," Sweeney said. "What can be helpful in learning to do this is when you stop talking altogether for a specific period of time. That way you're able to silently reflect on whether it's really necessary to verbalize something you might want to say later on. Then you're able to see how many things were better left unsaid, and then you'll be able to pray and focus on the right things to say."
Speaking of the right things is a key part of the camp as well. Sweeney will share his personal testimony, as will two-time All-Star Mark Loretta, who is currently a special assistant for the San Diego Padres.
"I want to talk about how being a member of the Catholic Church gives me a security that nothing material can," Loretta said. "If you put your hope in the things of this world, you're bound to be disappointed, but if you trust in Jesus and do what he tells you to do, then everything will work out fine.
"This was the Blessed Virgin Mary's message at the wedding feast of Cana. She told those there to do whatever he [Jesus] tells them to do. Can't get better advice than that. We want to include Mary's message in the camp, in part by praying the Rosary. Each camper will receive a special rosary whose beads are actually little baseballs, and we'll pray the Rosary as a group on the field. It's a way of showing the boys that rosaries are not your grandma's jewelry, but a powerful sacramental that they can use as well."
Loretta is grateful for the chance to contribute to the cultivation of authentic Catholic masculinity in his own back yard.
"I'm thankful to Mike for allowing me to be a part of this," he said. "It's great to be able to help out right here in San Diego. I was living and playing here in 2005, but was unexpectedly traded to the Boston Red Sox. I eventually made my way back, so it's great to be back home and contribute here."
Philip Rivers
Another area athlete who appreciates the opportunity to speak to camp participants is Philip Rivers of the San Diego Chargers. While the All-Pro quarterback is not known for his baseball skills, he is a strong supporter of integrating faith and sports.
"I grew up playing baseball, and, in fact, baseball was my favorite sport from the age of 8 to the age of 12," he said. "I didn't play it in high school, though, and instead focused on football. What I'm going to do is talk about how much being Catholic means to me, how it makes life's battles easier, and how it actually makes me a better athlete."
Rivers is aware of the relatively small window of time professional athletes have in order to use their public platform for good. However, he admires how Mike Sweeney continues to do this even after his retirement.
"Mike had a great major-league career. He used baseball then to share the Catholic faith, and he's still using it now," he said. "I really like that about him. He never stops thinking of ways to use what he's given to glorify God. He's very good at planning things like camps, thinking through what needs to be done."
Having a plan before embarking on any activity is something Rivers strongly advocates, and he sees the camp itself as an opportunity to pass this message along to the kids. "You can't just float out somewhere and hope things work out okay," he said. "You really need to have a foundation in whatever you do, and the ultimate foundation is Jesus Christ. He gives us everything we need through his Church, so in sports or anything else, we can prepare best by first making use of those things. I'm very happy to be supporting a Catholic camp like this one."
Rivers is also a supporter of Miles Christi, a religious order that is sponsoring the camp. A priest from the order, Father Martin Latiff, is scheduled to offer Mass each morning, to hear confessions and to give a blessing at the end of the day.
"I'm going to be there for spiritual assistance," he said. "I want to help the campers realize that the disconnect between sports and faith is not necessary. You really can integrate the two."
Father Latiff believes that playing sports can be a great opportunity to evangelize others. "You can use baseball or any other sport as a vehicle to bring people closer to God. Anything you do you can do for God, and that includes sports. What matters is pleasing the heart of Christ. You can do this in baseball, just as in any other area of life."
Just the Beginning?
Sweeney is in complete agreement with this sentiment, which he will share with others through his camp. "It is an athletic camp, but it's more than that," he said. "It's also a retreat, in a sense. Where else can you get top-notch instruction and be able to participate in the sacraments at the same time? Such an exciting prospect has drawn campers from all over the country. Colorado, Texas, Illinois, Michigan and Florida are some of the places campers are coming from."
Not surprisingly, Sweeney has received requests to conduct camps in many of these states. While he doesn't have the time to organize them all, he does want to offer a blueprint for such camps.
"I wanted to created a template for how a Catholic baseball camp should run. I can offer it to those interested, then have them draw the local instructors and sponsors. I can fly in and offer my services for the camp itself, but the locals have to be the ones who do all the pre-event organizing."
The post-event results are something Sweeney looks forward to as well. "We'll see the good effects of these camps here below, but will only know the full effect in eternity. We want to help the boys become better players by learning from the All-Stars, but also want to encourage them to reach for the stars, in the sense of looking to higher realities outside the material world. We want them to hit a home run for Jesus."