by
Jared Tomanek
on Jul 14, 2012 in
Featured
,
Men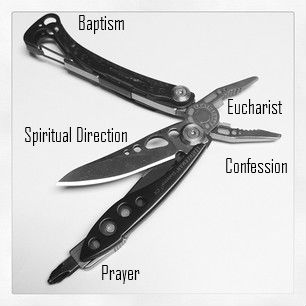 I cannot remember why I came across EDC or Everyday Carry, but it kept me busy for a little while just trying to see what other men carry.  As you can see, these guys carry a mixture of things from the useful and small to compact and rare.  Common pocket dwellers include: keys, pen, wallet, pocket knife, Moleskine.  Given my oppressive compulsive tendencies, my constant checking to make sure I lost none was an opportunity for close friends to make good fun of me.  I must admit, I am sure they got tired of hearing the list repeated whenever we left a place.  Perhaps that is why the Litany of the Saints always enlivened my soul and the Rosary soothes my worries as my mind runs.
Regardless, men collect gadgets and for the most part, these are for just-in-case situations.  I have a pocket knife and I use it seldom.  But when I need it, I have it.  Another popular EDC is some sort of mini-flashlight.  Of course your smart phone has the trusty bright light app but that is not the point.  Our clothes have pockets, some more than others, and men want those pockets to carry something.
I also carry a business card case.  I prefer to buy quality over quantity, so I purchased a Saddleback Leather case to replace the other I had for barely a year.  It smells.  No, it doesn't stink.  Similar to a sea conch, if you put it to your nose, you can hear cows mooing.  By the way, this company's marketing strategy is top notch.  For such a small business, it  actually lists its competitors on their website.
Who can forget a wallet?  Whether it is small for just an I.D. and cash, large enough for a checkbook, or in my case one that actually fits my iPhone a good quality wallet is built to last.  Here is a picture of mine from Brussardo.  This cool company not only makes a wallet that is customized for an iPhone, but it also will imprint a phrase.  I waited for a month for this workmanship to arrive because it is handcrafted and created in Bulgaria.
In the spirit of the EDC blog, here is a picture of the things that I haul around daily:
A number of years ago, I applied for a Resident Assistant position at my dorm.  The competition was steep.  I still remember one of the questions.  "What do you carry in your pocket?  Explain why you carry them?"
My first reaction was "Oh great.  Is there enough desk top room?"  Out came the keys, pen, wallet…and a Rosary.  I never took a liking to Rosary pouches and so always carry the most indestructible ones I can find.  Typically that means those thread ones with wooden beads.  Recently, I have been praying the brass knuckle ones.  You know, that little single decade ring with round bumps for the beads.
If you think women have too much stuff in their purse, just look at what guys carry.  Oh sure, men don't need purses.  They have tackle boxes, tool bags, tool boxes, baseball bags, equipment satchels, gym bags, console junk, and even special packs hunting.  With all those accessories, a purse isn't needed.  Rather it is a satchel, briefcase, or pouch.
Of course, the most necessary item for a man to have is the ever masculine multi-tool.  I am a Leatherman fan myself.  It has come in handy on so many occasions when I needed pliers, a screwdriver, or beer opener.  It is also the most Catholic tool.
It is the most Catholic because of its multi-functions.  The Church is universal and is the fulfillment of all places and times.  You need some forgiveness, open the confessional door.  How about some food for the journey?  We have Holy Communion.  Need to find a friend that has gone through similar trials to you?  The Lives of the Saints just about covers it all.  Can't find your keys?  We gotcha covered.  If your spirituality is not Franciscan, we have Dominican, Trappist, Jesuit, Carmelite, Communion and Liberation, Carthusian, Opus Dei, or Missionaries of Charity, and many more.
Like the Leatherman, She has everything you need because His grace is sufficient for us.
So what do you carry in your pockets?
List of items for my EDC:
Leather bracelet from Saddleback Leather.  This company is fantastic by the way.  I now use their Satchel and Pouch.  Ummm, yes, men carry both.  Think Indiana Jones, Gandalf, Chewbacca, Jack Bauer, Hawkeye, John McClane, Jason Bourne, and shall I say more?
Cross pen.
Brussardo iPhone wallet.
Brass knuckle Rosary.
Swiss Army watch.  I have had this for about 5 or six years now.  Great quality.
Keys with a Leatherman Style CS attached.  Quite handy.
Leatherman Skeletool CX.
Scapular.  Always be spiritually prepared for death and this is promised to be a life preserver.
Saddleback Leather business card wallet in Tobacco Brown.
Daily Roman Missal by Scepter.  I try to get to daily Mass and this keeps my mind on the matter/form at hand.
Not pictured: iPhone and three books that I am reading when time allows: Perfect Health Diet by Paul and Shou-Ching Jaminet (thanks to Jen Fulwiler for her recommendation, Man, the Saint by J. Urteaga Loidi (a no-holds bar male spiritual manual), The Meaning of Marriage edited by Robert George and Jean Bethke Elshtain, and finally The New Testament pocket size by Scepter and edited by the Catholic Church over the first few centuries after the Resurrection of Jesus Christ.
_______________________________
This article courtesy of Ignitum Today.