by
Jason Hall
on Apr 24, 2014 in
Featured
,
Government & Politics
,
Law & Justice
,
Those in Need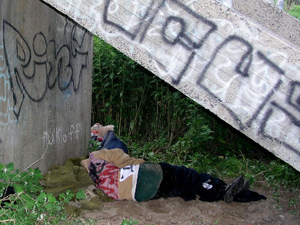 American political debates can focus on any number of things, from abortion to religious freedom to foreign policy. On some issues there are great differences between the parties, and on others there seems to be a broad consensus, at least among the political class if not the American electorate. Few policy areas have attracted amore disagreement and debate in recent years than efforts to reduce poverty.
The year 2014 is being celebrated in some quarters as the 50th anniversary of the beginning of the "War on Poverty," launched in 1964 by the Johnson Administration, with significant leadership from Sargent Shriver, a prominent Catholic who would later run for Vice President on the Democratic ticket in 1972. The legacy of the War on Poverty is hotly disputed, and in truth the results have been mixed. Any approach to build on this legacy that fails to carefully evaluate what has worked and what has not will be doomed to fail.
As always, Catholic Social Teaching cuts through much of the political fog, gets at the heart of the matter, and provides a healthy balance of legitimate concerns.
On the one hand, the Church cautions against exalting the market as an end in itself. Measures like GDP growth, raw numbers of jobs created, or stock market prices do not a just economy make. If large segments of the population are left out of a growing economy, or if the basic dignity of each human person is not respected, economic growth is simply not enough.
Conversely, a system which simply tries to meet the basic needs of individuals and families without offering them the opportunity to work and contribute to their own prosperity and to the common good likewise falls short of Catholic principles. Work is a great good, and in producing goods and services of value to others we participate in the creative work of God. A system which tends to foster dependency must be avoided.
Are there policies which can effectively balance these principles? A comprehensive and effective series of programs requires a lot of expertise, trial and error, and humility when it comes to the effectiveness of any program. But, there are proven examples of programs that do balance these principles and achieve very encouraging results. One example is the Earned Income Tax Credit.
Originally signed into law by President Gerald Ford, the EITC was greatly expanded during the administration of President Ronald Reagan and has been further expanded on numerous occasions since then.
Quite simply, the EITC provides a refundable tax credit (meaning it can be claimed not just to offset taxes owed, but can actually result in a negative tax liability and a refund greater than the amount payed in by the taxpayer) which supplements the income of people who work and yet make too little to rise out of poverty. The income thresholds for eligibility rise for people with children.
One of the recurring arguments about welfare programs involves the possibility that benefits can discourage work. The EITC directly encourages work by making entry-level jobs more financially advantageous. It is also proven to reduce poverty. According to a 2005 study by the Center on Budget and Policy Priorities, the number of children living in poverty would be as much as 25% higher if not for the EITC.
Another advantage to the EITC is that most recipients need it only temporarily. It helps to ease the transition back into the workforce, after which many workers tend to move up the economic ladder. This is in contrast to the growing support on both the right and the left for wage subsidies, in which the government would in effect subsidize employers who do not pay their workers just wages, making true self-sufficiency even more difficult to achieve.
The Catholic Bishops of the United States have been strong proponents of the Earned Income Tax Credit and similar programs for many years, and rightly so. As programs such as EITC inevitably face threats each time budget cuts are debated, the bishops have provided a strong voice for those who need tools like this to advance on the road to economic prosperity.
There is room for prudential disagreement on matters of government spending and poverty reduction, but the Earned Income Tax Credit is a proven and effective program that reduces poverty, encourages work, and leads to a more just economy.