by
Elizabeth Tichvon
on May 11, 2014 in
Catechesis
,
Featured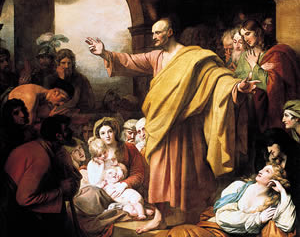 Fourth Sunday in Easter
Scripture from today's Liturgy of the Word:
Acts 2:14A, 36-41
A reflection on today's First Reading:
"Save yourselves from this corrupt generation!" (Acts 2:40)
This verse in the Book of Acts brings an image to my mind of a street activist holding a sign with those words scrawled across it — a scenario many would turn away from. But those who heard St. Peter's speech at Pentecost were "cut to the heart" by it, and that day, three thousand were baptized and received the gift of the Holy Spirit.
How many of us were "cut to the heart" these past days of Lent and now seek forgiveness for our part in Christ's death? Every one of us who has heard St. Peter's message must also turn away from sin and allow the Holy Spirit to change us.
Here's what the Catechism tells us about St. Peter's message:
"Since Easter, the Holy Spirit has proved 'the world wrong about sin,' (Cf John 19:21) i.e., proved that the world has not believed in Him whom the Father has sent. But this same Spirit who brings sin to light is also the Consoler who gives the human heart grace for repentance and conversion." (Catechism, Para. 1433)
Indeed, we must save ourselves from this corrupt generation! Repentance points us toward the goodness in our lives — it points us to God. Since Jesus Himself said that baptism is necessary for our salvation, we too must become sharers in His mission and stand up for St. Peter's message — it doesn't matter where or how we do it, but it matters that we do.