by
Patti Maguire Armstrong
on Aug 01, 2011 in
Education
,
Featured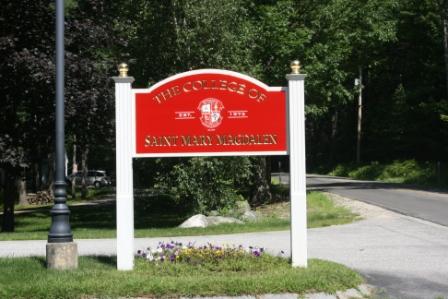 The College of St. Mary Magdalen in Warner, New Hampshire, has had a make-over.  On October 16 of 2010, this small liberal arts college rededicated itself to rigorous intellectual and spiritual formation while unveiling a new name: the College of Saint Mary Magdalen. The name was modified to serve notice that the Catholic identity remained but it was retooling its operation. According to Tim Van Damm, Vice-president of Advancement, and Admissions, "It's a re-founding with completely new leadership and new curriculum."
Given that the College consistently makes it into the top twenty schools in the Newman Guide to Choosing a Catholic College, why the changes?  Van Damm explained, "In the past, we had a reputation for being a Catholic boot camp," he said.  "But a boot camp is not a college.  We are seeking to educate the whole person in line with what the Holy Father is calling for: honoring the dignity of the person and their journey to authentic freedom — both intellectual and spiritual freedom.  We want our students to learn to exercise their freedom within an environment that is conducive to virtue.  For these reasons, we are rebuilding our collegiate community from the ground up, establishing it firmly on the principles of the faith and God-given common sense."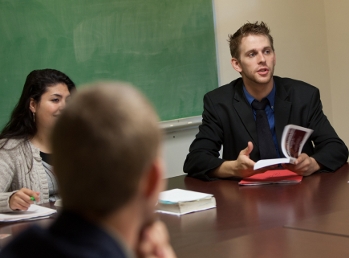 Jonathan Camara is a junior at the College who experienced the transition. "I think the changes have been excellent," he said, "The infrastructure is still there but we are allowed to make our own decisions as adults."  He stated that when a student makes a poor decision, other students act like adults and step in to help.
Camara said he became interested in enrolling after participating in a summer program. "The energy that was present really attracted me. Before I came, I had read a book by Josef Pieper titled, Leisure, The Basis of Culture," he said.   "After reading it and being at the college, I recognized that's what they were striving for; a very Catholic and very human life grounded in the right now but recognizing our need to look higher."
The changes at the college were far reaching, including replacing many of the faculty and staff.  George Harne, a Catholic convert in 2006, was named the fourth president of Magdalen last February. He attended St. John's College in Annapolis, MD and received his Ph.D. in musicology from Princeton University. Harne had previously served as the academic dean and taught courses in philosophy, Latin, and mathematics.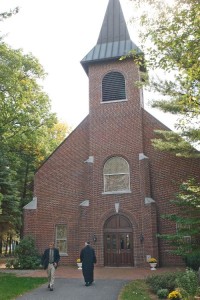 "New England is the birthplace of America's colleges and we intend to build a strong Catholic college; integrating academic excellence and fidelity to the church. We want to be the best," he said. According to Harne, "I think the time has come for us to have a thoroughly faithful college but an institution that is the intellectual equal of the finest colleges in the country. We want a college where you don't have to choose between a world class education and good Catholic education."
To achieve such a lofty goal requires recruiting the strongest faculty and staff possible. Harne claimed to be doing just that.  "When many Catholic universities and colleges declared their independence from the Church in 1967 at the Land O' Lakes Conference in WI, several smaller Catholic colleges rose up, taking up the banner of orthodoxy." He contended, however, that to preserve their orthodoxy, many of these colleges were sometimes tempted to circle the wagons, avoiding a robust engagement with the larger world and being overly cautious in the recruitment of their faculty.  "We have entered a third stage: we are determined to find faculty that are both world-class intellectuals and faithful to the Church," he said.
Harne noted that such an excellent Catholic education demands that Christ be at the center. "All of us at the College — the faculty, staff, and students — are called to follow Christ without reservation."
Liberal Arts Made Practical
This small school with a big reputation and big vision sits on 135-acres overlooking the Mink Hills of New Hampshire.  The College aspires to grow to 300 students over the next 5 – 6 years.  Van Damm stated, "A lot of the Newman Guide colleges are small. There's a place for larger universities but I don't think that is what we are called to be. We don't want to lose the unity although we are open to where the Holy Spirit leads us."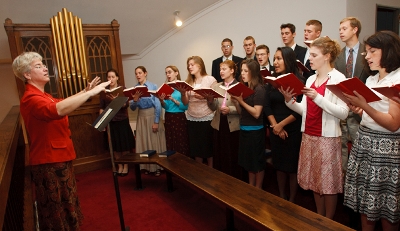 The academic program includes both music and art. "We are dedicated to educating the whole person," said Van Damm. "Students find talents they did not realize they had."
Van Damm's education in public relations and business and his hands-on experience in the staffing industry gives him a very real understanding of how to help students add practical experience to their degrees for the careers they hope to enter. "I worked as a head hunter and interviewed hundreds of people looking for jobs," he said.  "If a company is looking to hire — unless it needs a specific specialty such as engineering —  will be looking primarily at what experience the applicant is bringing to the table.  Companies want to know how their next hire is going to add value to their organization.  Practical experience is attractive to an employer.  I work with students to help them plan for the future and to show them how to highlight components of their experience which will make them look attractive."
In Camara's case, he plans to enter the computer field with his liberal arts degree.  "I have practical experience from helping to maintain and build the college's website," he said. "After I graduate, I'll get a certification by taking a class at a community college, and then I'll try to get an entry level job and work up from there."  
Affordability
The College of Saint Mary Magdalen is the least expensive Catholic school in the Newman Guide although there is no college on the list that would be described as "inexpensive." Van Damm stressed that their goal is to make a place for every qualified student who wants to attend. "We ask anyone interested not to assume you can't afford to come here. Talk to our admissions people and let us work with you," he said.  "We want to make it possible for any qualified student who wants to be here to be able to attend. We will tailor financial aid for students and we will work with them and their families to make an authentic Catholic education a reality."  
Although the school year is fast approaching, Van Damm reported that there are still scholarships available. "We will work to get you here," he said. "God has all the money in the world and we have seen many miracles behind the scenes which give us the confidence to be bold and to take leaps of faith." He said that repeatedly, they have watched in awe as the Holy Spirit guides them to step out in faith not in fear.  
Unique
Instructor Mark Discher was almost ready to give up on teaching until he came across a job posting for the College of St. Mary Magdalen. Shortly after his graduation from Oxford University in England with a doctorate in moral theology he converted to the Catholic faith.  After teaching at two universities — one Catholic — his dual love of Catholicism and academia were disappointed in the classroom.  He determined to leave teaching and return to the trucking business he had started to pay his way through school.  Then, his wife Amy came across an advertisement seeking an instructor at St. Mary Magdalen College.
He interviewed in the spring and was offered the job. "I immediately loved the people at the college — the staff and the students," he said.  "Right away, I was extremely impressed.  It was a genuine community like I had never seen on a college campus before."  He explained that outside the classroom, students were very comfortable just being themselves around each other and inside the classroom, they were intelligence and articulate." Within the year, Discher was promoted to academic dean.
"I have met extraordinary people of faith commitment, like nothing I've ever been a part of," said Discher. "I did not talk this way at other schools I taught at. It was what I imagined teaching should be like."
St. Mary Magdalen College may prove to be what you imagine a Catholic college should be like, too.