by
40 Days for Life
on Mar 03, 2011 in
Contraception & Abortion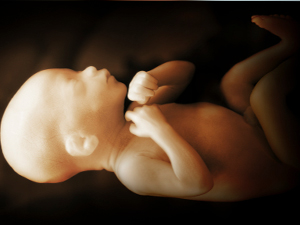 "On March 9, pro-life advocates from downtown Chicago will join with people of faith from many other communities across the country to kick off our own version of the groundbreaking 40 Days for Life campaign," said Christina Skelley, director of the Chicago-Old Town 40 Days for Life campaign.
40 Days for Life is an intensive pro-life initiative that focuses on 40 days of prayer and fasting, 40 days of peaceful vigil at abortion facilities, and 40 days of grassroots educational outreach. The 40-day time frame is drawn from examples throughout Biblical history where God brought about world-changing transformation in 40-day periods.
The prayer vigil of the Chicago-Old Town 40 Days for Life will take place at the Planned Parenthood Near North abortion facility at 1200 N. LaSalle Blvd. The facility made headlines in the fall of 2009 when a controversial "bubble zone" ordinance was enacted to prevent pro-life advocates from approaching women outside abortion clinics.
"Despite the limitations the bubble zone created, pro-lifers have continued to peacefully pray outside this facility, and lives have continued to be saved as a result," said Skelley. "As we now join with others from across the country to pray for 40 continuous days to end the tragic violence of abortion, we look forward to seeing what kind of transformation will God will bring about in Chicago and throughout the nation."
David Bereit, national director for 40 Days for Life, cited the proven life-saving results of the campaign. "During seven national coordinated campaigns, more than 330 communities have joined together for nationally coordinated 40 Days for Life campaigns. The efforts of hundreds of thousands of people of faith helped make a tremendous difference," said Bereit.
Numerous cities reported a significant drop in abortions. Some abortion facilities closed altogether. Churches of different denominations worked together for an end to abortion in their cities. Post-abortive women began programs to heal from the pain caused by previous abortion experiences. And more than 3,500 babies – and their mothers – have been spared from the tragedy of abortion. "With such a strong track record of results," said Bereit, "we are excited to see what God has in store for this campaign."
"We are expecting great things for our 40 Days for Life campaign in downtown Chicago," said Skelley. "It is exciting for our community to be a part of something that can have such lifesaving impact, and we can't wait to get started."
To learn more about 40 Days for Life campaign, visit: www.40daysforlife.com. For information about the Chicago-Old Town campaign, visit: www.40daysforlife.com/oldtownchicago.
For assistance or for more information, please contact Eleanore Strong at (Enable Javascript to see the email address) or 773-270-1727.