by
40 Days for Life
on Jul 18, 2012 in
Contraception & Abortion
,
Featured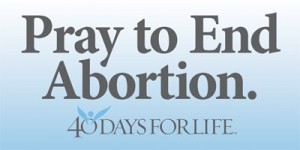 It's time!
If you're ready to conduct 40 Days for Life in your city this fall or if you're just thinking about leading a local campaign in your community, please take the time to watch this 12-minute video to find out everything that's involved in leading a local campaign:
The next internationally coordinated 40 Days for Life campaign will be conducted from September 26 through November 4. Local campaign applications will be accepted for the next two weeks, until Tuesday, July 31. (IMPORTANT: You do NOT have to apply to pray, volunteer or participate in a local 40 Days for Life. Only those who want to LEAD a local campaign need to apply.
Leading a local 40 Days for Life campaign is a bold undertaking that requires determination, heart and — above all — faith. But it's worth all the effort when you:
Help save innocent lives from abortion
Help women — and men — find healing from past abortions
Mobilize Christians to end abortion in your city
You can apply online or by mail. Complete instructions are available at: http://40daysforlife.com/apply
Ready to make a decision today? GO FOR IT!
Need more time? PRAY ABOUT IT! You've got two weeks to keep this matter in prayer — and we'll send you additional information over the coming days to help discern if you're being called to lead a 40 Days for Life campaign in your community.
**PLEASE NOTE** All online applications must be received by midnight Pacific time on Tuesday, July 31. All mail applications must be postmarked by Tuesday, July 31.
Looking forward to what God has in store for this fall's 40 Days for Life!