by
Tom Purcell
on Dec 20, 2014 in
Featured
,
Humor
,
The Catholic Family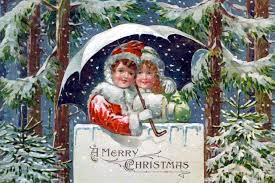 The snow started coming down hard a few hours after we'd arrived.
It was Christmas Eve 1976. We were 20 miles from home, visiting my mother's sister at her home in the country.
Earlier that evening, my mother, father, grandmother and sisters had piled into the station wagon to begin our trek.
I was 14 then. My sisters and I were getting older – growing up. Only our youngest sister still believed in Santa Claus.
Teenagers don't much enjoy being stuck in a car together and the annoyance was clear.
My father was in an unpleasant mood. His mother had died on New Year's Day a few years earlier. He'd lost his father when he was only 3.
The merriness of Christmas, which had come so easily when we were tots, was absent.
Fortunately, when we arrived, there was a festive spirit in the air and holiday cookies — that always lifted my spirits.
My mother had three sisters and two brothers. They had 26 children among them. My young cousins filled the house with excitement and joy.
I joined my father and uncles, who talked about football, the automobile tires and the weather.
I joined my mother and my aunts, who laughed aloud as they related stories about their children or their father or long-lost relatives.
Then the snow began.
It came on thick and fast and my father, worried, soon urged us to get our things and get in the car.
By the time we got onto the highway, the roads were blanketed and few cars were out. The thick snow deadened the sound of the tires.
It was as though we were in a sleigh gliding silently through the snow-covered countryside.
The snow brought calm over us. Snow always does that.
We humans like to think we have more control over our world than we do. The fact is we have very little control over most things.
The snow makes us remember this. The snow makes us realize how small we really are – how small our worries often are.
My father turned on the radio and tuned in old-time radio broadcasts that one station plays every Christmas.
Don Ameche and Frances Langford were performing "The Bickersons," a 1940s show in which a married couple got into hilarious arguments.
I remember one line in which the wife asked if he'd had breakfast and he said he just ate the oatmeal on the stove. "That isn't oatmeal!" she said. "I'm wallpapering."
We laughed heartily at the performance – my father's booming laugh most prominent of all.
I felt the way families must have felt back in the 1940s. They joined together in front of the radio while performers painted vivid pictures in their imagination.
We enjoyed the old radio shows for a while.
We coaxed our grandmother into telling us stories of what Christmas was like when she was a child.
My mother got us to sing Christmas carols.
The snow gave us humility. Once humbled, the confinement that had agitated us on the drive to my aunt's house had allowed a serenity we forgot was possible.
That's why I'm praying for another white Christmas this year.
By Tom Purcell